As of Thursday, January 4, 2018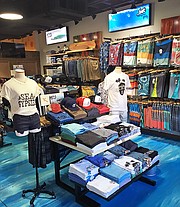 Lost, a surf brand that's about 25 years old, initially defined itself as a company that makes world-class surfboards bearing the logo …Lost. But over the last few decades, the brand has evolved beyond surfboards to surfwear with plans for retail expansion.
In the next couple of years, Joel Cooper, Lost's chief executive and co-owner, forecasts the label will open six stores in Hawaii with the retail push being led by surf-industry veteran Scott Trudon.
In early February, the company, headquartered in Irvine, Calif., is planning to open a new store in Maui, and in April another outpost should debut in the Ala Moana Center mall in Honolulu.
In addition, the brand is well represented at leading core surf shops. In California it has been sold at Jack's Surfboards, Huntington Surf & Sport, Surfside Sports, Sun Diego and Tilly's. But nothing beats owning your own locations to give the public a good look at the full depth of the brand, Cooper said.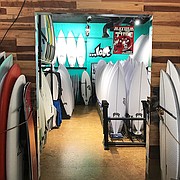 "It is impossible for any retailer, regardless of how much they support your brand, to give you a presentation like you can give yourself. You don't share the stage with anybody but yourself," he said. He believes that this retail model is a wave that lifts all boats.
"I believe that the areas where you are strategically placed, and you have good presentation of product, helps the competition and the brand looks more important. You open a store, and other stores do better with your product," he said.
Cooper forecasts that the brand will continue to be a medium-sized business that sells Lost-brand apparel as well as surfboards. It remains one of a handful of independent surf brands working in a tough market.
"Our goals are to be a small- to medium-sized company and sell to a better distribution," Cooper said, noting that worldwide sales last year totaled $60 million. "We do not have to be the biggest company. You can be very profitable with a small- to medium-sized business."
Mixing it up
The past decade has seen a lot of challenges to surfwear brands. Leading retailers for the category such as Pacific Sunwear of California shifted their merchandise mix to offer more streetwear and lifestyle brands. Top surfwear company Quiksilver Inc. recently emerged from bankruptcy protection and then on Jan. 4 acquired its rival Billabong, which is headquartered in Australia.
But there continues to be opportunity for independent brands, said Sean Smith, executive director of the Surf Industry Manufacturers Association, a trade group headquartered in Laguna Niguel, Calif.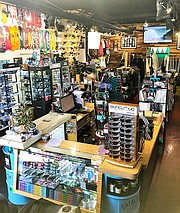 "Changes in consumer shopping and buying behavior have given indie brands more opportunities than they've had before. I wouldn't say the playing field has been leveled, but smaller brands at least have some reason for optimism if they can really nail the way they speak to and service their customer base," Smith said.
Until 2011, Lost ran a licensing deal with La Jolla Group until the company took its manufacturing in-house. The brand's parent company, Lost International, currently runs more than 10 licenses overseas, where companies such as Lost Brazil and Lost Argentina manufacture and sell Lost apparel and surfboards in their territories.
Lost in the United States controls these licensees' designs and marketing campaigns. Since 2015, the California company has manufactured a line of women's clothing called Sea Gypsies.
Lost took a formal bow in the early 1990s after Lost founders Matt Biolos and Mike Reola produced T-shirts and boardshorts to complement the surfboards shaped by Biolos. The brand developed a reputation for throwing parties and being pranksters with an outrageous sense of humor—all documented in a series of surf videos popular on California's surf scene, said Chris Pollock, the company's president.
"We still position ourselves as the brand that lives by our own 'black sheep' rebel values," Pollock said, "and 25 years later, we continue to rebel against the current of the industry status quo."