As of Thursday, January 4, 2018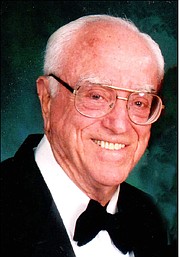 Jack Berger, the cofounder of The Print Works, a swimwear textile converting company, passed away on Dec. 16, 2017, of cancer. He was 94.
Berger was born in New York City, where his mother had a successful lingerie company. He attended New York University, where he received a bachelor's degree in business.
In 1949, he moved to Los Angeles, where he worked in textiles before starting The Print Works in 1972 with his wife, Harriet Berger. It was one of the first independently owned and operated textile converters in Los Angeles catering to the swimsuit industry.
After 20 years, they retired and moved to Laguna Woods, Calif., in 1996.
Berger was a past president of the Textile Association of Los Angeles and was involved in philanthropic activities with the City of Hope and the Kiwanis.
He was preceded in death by his wife, who passed away in 2001. He is survived by his two sons, Ken Berger and Russ Berger; their wives, Helene and Janice; and two grandchildren, Berdy and Atticus.
A funeral service was held Dec. 19 at Hillside Memorial Park & Mortuary in West Los Angeles.
Donations can be made in Jack Berger's name to the American Cancer Society.