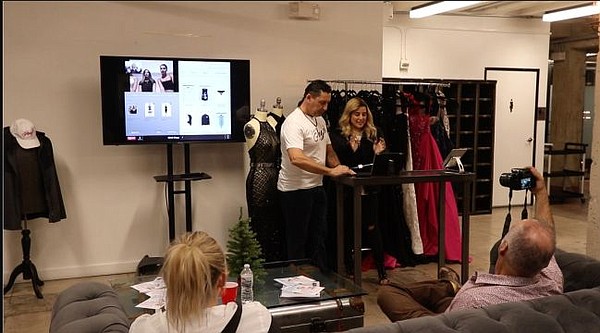 Tech Company's Show & Sell E-com
Simon La Barrie kept hearing the same refrain from his friends who ran boutiques. "No one comes to stores!" He kept hearing the same complaint from people shopping e-commerce; 'It looked good on the e-boutique. But it didn't fit when I tried it on at home, so I had to return it.'
The San Clemente, Calif.-headquartered entrepreneur thought he could bring shoppers back to boutiques with the assistance of a live help platform from stores. The internet connection and live chat with boutiques would help consumers get exactly what they need. He calls it 'Show & Sell' e-commerce. He demonstrated it with the app HelpJess at the CNTRL Collective shared workspace compound in Los Angeles' Fashion District recently.
In DTLA's Fashion District, La Barrie and his friends shopped at a store in Perth Australia and the HelpJess warehouse in Singapore. The sales people in the stores took La Barrie and his crew through the finer points of several garments. Sales were made. With HelpJess, one could possibly shop anywhere across the globe.
The Help Jess app provides a private online check-out, also online chat and the company's exclusive, interactive real time video chat. For retailers, La Barrie's team provides space in HelpJess' online mall. HelpJess will take a commission from sales.
The market is wide open for Show & Sell, said Syama Meagher, chief retail strategist for consulting company Scaling Retail. "We are returning to a time of individualization and customer-centricity, but now with technology and the ability to scale. Bridging global brands and customers is a huge opportunity. Help Jess has a huge potential to fill a new market," she said.
Scaling Retail has advised HelpJess. HelpJess is scheduled to release its app on Apple's iTunes by late January.