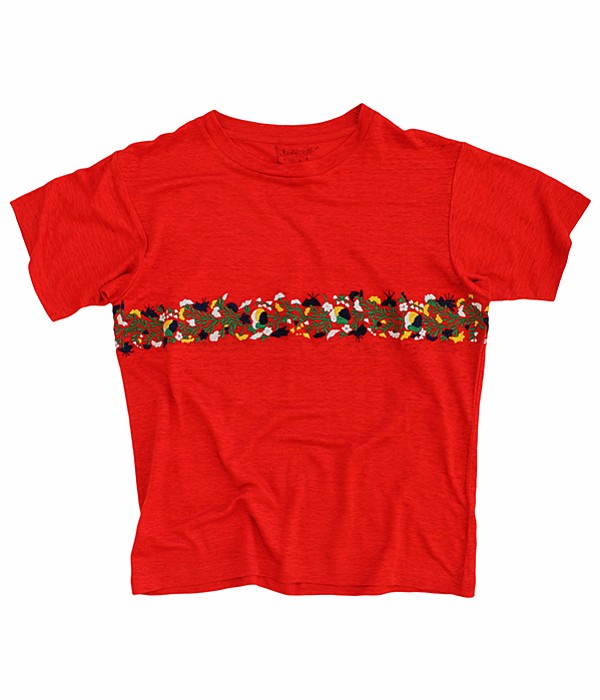 ALTERNATIVE TEES
Banner Day: A T-Shirt Alternative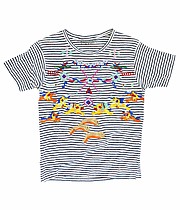 Plenty of first dates never turn into second dates, but Kate Ciepluch's first date with Grahm Sisson in July 2014 was the start of much more than dinner and a movie.
Sisson showed up to the date wearing a linen T-shirt with embroidery. Ciepluch must have seen her future in the shirt. She told Sisson that they should put together a company and make embroidered linen T-shirts.
It may not have been exactly flirtatious small talk, but it made business and fashion sense to Sisson. Fast-forward less than two years and they run the T-shirt brand Banner Day, headquartered in Los Angeles. They also got married and started a family, which currently includes two kids.
Count Banner Day as a T-shirt alternative. Fabrics such as viscose and hemp have been used in tees, but the fashion staple is typically made of cotton. Ciepluch said linen feels better than cotton. "It's more breathable, it's drapier, it moves with your body," she said.
But there are reasons why linen is not as popular as cotton. The fabric is more expensive. Banner Day tops start at retail for $98. Banner Day tops also require dry cleaning or hand washing. Price and care might drive away some customers.
But Ciepluch thinks linen attracts a luxe customer. "It's an elevated, almost souvenir, T-shirt." Banner Day has been sold at retailers such as Anthropologie, Shopbop and Saks Fifth Avenue. The label also handles direct sales at www.bannerday.us.
Banner Day shirts feature collections on themes such as the Great Lakes and the French Riviera. The Riviera Collection features a shirt bearing the names of Riviera towns. The Great Lakes collection features a map of the Great Lakes and flowers of that region.
Popular shirts include a print of Hawaiian hibiscus flowers, a shirt with a peace sign and a heart symbol on the upper right-hand side of the shirt, and a top bearing the word "California" with the blue and yellow colors of the state's former license plate. There's also a shirt bearing the slogan "Tequila Por Favor."
The prints and slogans are inspired by Brooklyn, N.Y.–based artist Nick Francis DiFonzo. DiFonzo has also performed with the band The Majorleans. The graphics are reminiscent of drawings from an artist's sketchbook. Ciepluch said DiFonzo has special meaning to her family. "He did a piece of artwork on Grahm's father. The painting hung in Grahm's bedroom—you can't help just staring at it," she said.
Up next, Banner Day plans to look for ways to go beyond the T-shirt. "The big news this year is that we just launched swimwear. The next natural progression is with children's clothes. International expansion is another component. We have a Japanese showroom," Ciepluch said. The Summer Somewhere showroom represents the brand in the U.S.
RELATED STORIES