TECHNOLOGY
Epson Introduces Next-Generation DTG F2100 Printer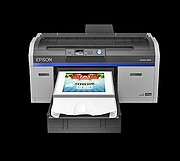 Five years ago, when Epson America Inc. introduced its first purpose-built, direct-to-garment (DTG) printer, the Epson SureColor F2000, it intended to set a new standard in the industry by enabling screen-print shops of all sizes to print high-quality graphics on fabrics ranging from 100 percent cotton to 50/50 fabric blends at production speed in a simple, user-friendly format.
The success of the F2000—the Long Beach, Calif.–based company claims it is the "best in class" with the largest market share—has spurred the rollout, announced Jan. 18, of the printer's next generation, the Epson SureColor F2100. The printer, which will sell for $17,995, debuts at the Long Beach edition of the Imprinted Sportswear Show Jan. 19–21 and is set to ship in March.
Taking its cue from customer feedback, Epson worked to fine-tune the printer's attributes. "The three main messages we heard" from its predominantly screen-printer client base, said Tim Check, Epson America's senior product manager for professional imaging, "was it needed to improve its reliability long term, produce more pieces within a given time and upgrade the quality of the printing."
With this new iteration, Check said, "We've given people doing DTG a total solution."
The ability to print directly on a finished garment has been a boon to screen-print companies. While screen-printing, a laborious, often messy and time-consuming process, is still the choice for large-volume orders where costs can be spread, digital DTG printing of the type Epson's F2100 produces allows a company to take on small orders of even one garment and still make a profit.
"We tried to simplify a lot of steps," Check explained. Unlike screen-printing, which requires an individual screen to be created for each color, a DTG image is simply downloaded to computer software. The garment is placed on the printer paten, "you hit print," he continued, "and that's it." The printer takes care of the finishing. "All that setup and cleanup," Check said, "is eliminated." From that point, the file is saved and stored. If the client wants more of the same garment, the printer can simply recreate the job.
This next-generation Epson DTG printer takes advantage of new advancements in performance imaging, building on the Epson PrecisionCore TFP printhead, the Epson UltraChrome DGT garment-ink technology and proprietary inks that only Epson sells. Unlike screen-printing, which has limited color choices, there is no limit to the number of colors the F2100's ink technology can generate.
For starters, Epson's Garment Creator Software, available for MacOS and Windows, has been improved, offering more "powerful tools," the company notes, for layout and text, color management, ink control, and cost estimation, while remaining intuitive and easy to learn.
Color management was a major focus for the F2100. The printer is smarter at analyzing a graphic and figuring out the best way to print it. As Check explained, "The software will look at an image and is smart enough to know when to leave the garment color when needed or when it needs a higher white aspect."
A key improvement, Check explained, one designed exclusively for the F2100, is the Highlight White Ink Mode, which makes possible the simultaneous printing of the white base and color inks on the color pass, even allowing for a second pass with white—"only pennies for the ink"—for brighter whites. New also, Precision Dot Technology generates variable-size dots—whereas the F2000 had only one size droplet—allowing for more-precise graphic rendering and smoother tonal gradations while enhancing the image's sharpness.
Faster speed was high on the to-do list, and the F2100 now achieves up to twice the speeds of its predecessor. A new garment grip pad that sits on top of an all-new, quick-load paten grabs onto fabric and holds it securely in place, reducing loading time by 50 percent. "Loading a garment used to take 50 seconds; now it can be done in 25 seconds or as little as 12.5 in some cases," Check said. And customers are particularly excited, Check said, about the F2100's new Light Garment Mode, which "can double the print speed on light garments."
Maintenance, which is critical to the printer's overall reliability, also came under scrutiny. While the F2000 requires users to do about five minutes' worth of maintenance at day's end, the F2100 has an integrated inline self-cleaning system that carries cleaning solution through the printhead, eliminating downtime. White ink is now triple-filtered before reaching the printhead, preventing ink-clogging issues. An inline air filter vacuums all loose fibers to a dust-catching filter to avert print defects.
The F2100 "is not a replacement for screen-printing," Check noted, which requires larger volumes of garments to be cost effective. What it does do is allow those same companies to expand their offerings to customers who want smaller quantities that previously could not be done at a profit. "The largest screen-printers use this to supplement their traditional process," Check said, while smaller shops—even Etsy vendors—that are geared to small volume can produce product quickly at low cost.
In the end, however, production speed and cost efficiency mean little if the quality of the digital print is lacking. "With digital, you can recreate the brushstroke of a painting much easier and with better quality," Check said. "Certainly in the eye of the beholder, you see finer details. Something artistic can be captured better, and easier."