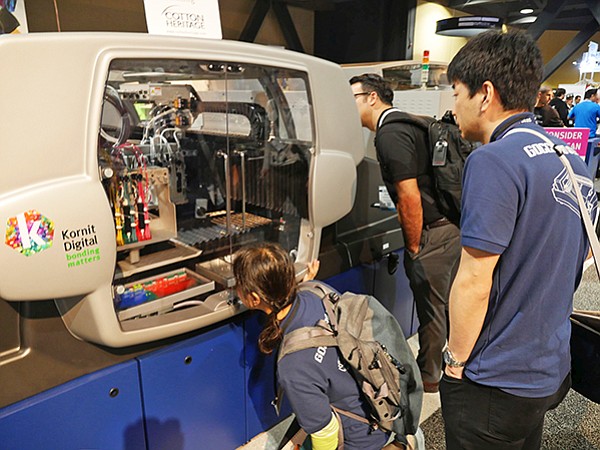 PRINTING IDEAS
ISS: Serving Boutique Biz at Crowded Show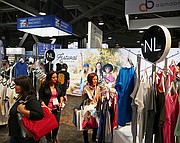 LONG BEACH, Calif.—Designers Freddie Rojas and Tina Rani walked the recent Imprinted Sportswear Show at the Long Beach Convention Center to research machines that could tailor their printing services to boutique lines. "People want customization," Rojas said. "It doesn't look like everything else."
For them, small is beautiful. "Screen-printing on demand is where it's at," Rani said. "We're thinking about taking everything in-house to make small lines."
Many other designers, garment printers and entrepreneurs at the show were searching for ways to support making small garment runs at the large show, which took place Jan. 19–21.
This annual show focuses on screen-printing techniques, machines and ideas for T-shirts and basic clothing that employ graphics, embellishments and embroideries. The exhibit has been a traditional showcase for big screen-printing machines that deal with more volume.
This year, more than 24,000 people pre-registered for the show, where booth space was sold out, said Joshua Carruth, a trade-show director for Emerald Expositions, which organizes ISS.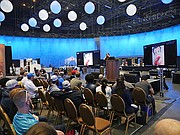 Attendance almost doubled over last year, when ISS took place during one of the worst rainstorms of the year. Rain was so heavy that the 110 Freeway flooded a few miles north of Long Beach. Still, 14,000 people reportedly attended last year's show, according to ISS management.
Even though more people are searching for machines for smaller runs, traditional screen printers, which cater to businesses doing big volume, were still a large presence at the show, ISS vendors said. But there were many exhibitors looking to work with smaller businesses.
Brothers Ryan and Mark Palmer of CaliDTG in La Habra, Calif., reshaped their garment-printing business in 2016 by investing in smaller garment printers, riding a wave of businesses doing smaller orders for the direct-to-consumer market.
Ryan Palmer said this business is growing because many larger screen printers won't work on an order unless it has a minimum of more than 500 pieces.
With smaller runs in mind, S.Roque of Portugal exhibited the Roq Hybrid, a direct-to-garment machine that can work with glitter and foil details to print on shirts.
Technology company Epson also got involved in the direct-to-garment-printing game. At ISS, it exhibited its new direct-to-garment printer, the SureColor F2100. Tim Check, senior product manager of Epson America Inc., said the SureColor F2100 was an improvement on past models. "The SC-F2100 delivers on reduced maintenance while providing increased speed and efficiency with newly developed print modes to help customers increase business needs."
Israeli manufacturer Kornit Digital exhibited the Avalanche HD6 direct-to-garment printing system. It was the North American trade-show debut for the printer, which uses less ink than other machines and requires little setup time, said Kornit's Ryan Kurek, director of marketing for Kornit's North America office. Less ink reduces printing costs, he said.
Bigger booths
Jeremy Morillo, senior account executive for Next Level Apparel, headquartered in Gardena, Calif., said the company expanded the footprint of its booth this year by more than doubling it to a 30-by-50 booth.
This was the second time that Next Level exhibited its "Festival Collection." The basics line is influenced by the lifestyle of music festivals, including the Coachella Valley Music and Arts Festival in Indio, Calif. Morillo said the line's silhouettes this year were looser than typical basics and employed more unique colors.
Los Angeles' Bella + Canvas label had a bigger 20-by-40-foot booth to show its new Heather Prism line.
This year, US Blanks of Los Angeles had two booths compared to one last year. One booth was located on the main trade-show floor while a second was located in the Arena section, which had a food truck, open-meeting space and extra real estate for vendors. US Blanks showed its new velour garments and its "destroyed" T-shirts.
"The show is growing," said Kevin Kelly, US Blanks' chief executive officer. "Getting premium space is impossible. When this thing opened up, we were front and center."
A traditional exhibitor at the show is Gildan, headquartered in Montreal. The company, which acquired the American Apparel brand name last year, introduced the Gildan Heather line, featuring a heavier cotton with a softer feel.
Los Angeles Apparel's Dov Charney showed T-shirts made with an enzyme wash.