SWIM/SURF
Nayali Challenges Swimwear's Accessibility Issue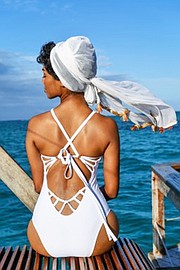 As an active woman who has a larger bust size, Shilpa Rajpara's mission was to create swim styles for women who need supportive, attractive designs. Reflecting on her career spanning 14 years, she remembers trying to introduce designs that would make women more comfortable in swimwear.
"There were such limited choices for me. I tried to push designs for larger-busted women, and they [the brands] weren't quite ready. It wasn't the direction they were going, or we might have only one option to fit these women," she recalled.
The Nayali designer and chief executive focuses on creating pieces that accommodate a bust that measures from a D cup to a G cup. Due to her own challenge of finding swimwear that fits, Rajpara test-wears Nayali designs to ensure maximum comfort.
"I travel a lot and try to add in an inspiration trip and a testing trip," she said. "I took [my swimwear] to Iceland and wore it during an underwater dry-suit dive in Iceland."
For her swimsuits, Rajpara is now using custom-designed, antibacterial fabrics sourced from Taiwan. She is creating pieces that promote convenience for an active lifestyle but also reduce water consumption that is often necessary to wash activewear in order to keep pieces fresh.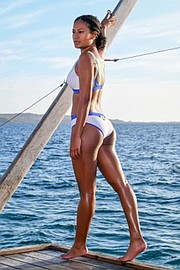 "We're moving to a new fabric that has been in development for the last 2½ years," she revealed. "It has an amazing hand feel, more compression and it uses anti-bacterial, nylon yarns with a different percentage of spandex to give more support to the breasts."
Many swimwear companies try to accommodate this segment of the market by relying only on too much spandex or adding underwires to cups—both of which lead to other issues, such as inadequate support and painful wires poking skin.
"We are using a new technology with our elastics partner. They make a lot of elastic and components for all the big brands," she said. "We are doing something a little bit different using no wire but another material instead."
Moving forward, Nayali's mission will become more focused on its core collection of tops. In addition to ensuring that these designs accommodate a woman's body, Rajpara wants to give customers more options. These swimwear tops are now made to easily match with bottoms from other swimwear manufacturers, creating a retail environment of "in addition to," not "instead of."
"We picked some neutral colors for our core that can mix and match with a lot of other brands," she said. "Giving customers a mix-and-match, neutral option is an additional selling point."
Wholesale pricing for the brand ranges from $30 to $70. By September 2018, Nayali will have new retail partners, as the line has only been available via e-commerce at nayali.la and through Amazon.com.