As of Tuesday, June 5, 2018
June is Pride Month, and it seems like everybody wants to be a part of it.
It started in the Los Angeles area June 1.The exterior of the Beverly Center was lit up in the colors of the Pride rainbow flag on that night. It was the first time the retail center near West Hollywood, Calif., covered the building in the colors of the rainbow flag.
The lighting was part of a ceremony for The Advocate magazine's Champions of Pride event which featured an appearance by Emmy award nominee Laverne Cox. It's just one of the big events for Pride Month, which mix retail and gay pride. The LA! Pride Festival & Parade will run June 9 and 10 in West Hollywood, and advance tickets sales have skyrocketed, 200 percent in a year over year comparison with the 2017 Pride Festival, according to Jackie Rocco, business development manager for the City of West Hollywood.
The Pride Festival also is working with the Dodgers baseball team for a LGBT Night at Dodgers Stadium June 8. Dale Scott, the first openly gay MLB umpire will throw the game's first pitch. For sale will be t-shirts bearing the Dodgers logo in rainbow flag colors.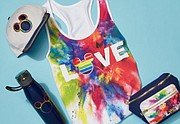 Disney released the Rainbow Mickey Collection, 10 percent of only purchases of the collection will go to GLSEN, an organization promoting inclusive schools for LGBTQ students. Under Armour, a major performance and activewear label, also released its pride label United We Win, which features rainbow colors on sneakers and tees. Nike recently released its BeTrue collection for Pride Month.
Pride Month is a big deal for boutiques such as LASC in West Hollywood, said Alfredo Izaguirre, the boutique's general manager. "It's like Christmas. It's the largest month for us," he said. LASC's Pride looks include Sparkle Shorts. They are sequined shorts which sparkle when lights of a mirrored disco ball shine on the sequins.