RETAIL
Agenda Founder Levant Unveils New Project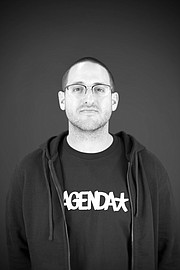 Ntwrk, a video-commerce channel, was recently announced as the next project for Aaron Levant, the entrepreneur who founded the Agenda trade show.
"Walking away from that after 15 years was a big decision," Levant said of Agenda. More than 1,000 brands exhibit at the biannual trade shows in Long Beach, Calif., and Las Vegas. He also helped start hip-hop music festivals and pop-up markets ComplexCon and Agenda Festival.
"This is the most ambitious project that I'll lead. We are shooting for the stars," he said of the upcoming project, which is scheduled to go live later this year.
Ntwrk will feature content such as a daily shopping show, possibly a scripted show and videos from celebrities, sports stars, musicians and pop-culture VIPs. The channel will be viewed through mobile devices. Almost everything on the shows will be available for purchase. Unlike traditional media companies, Ntwrk will not gain revenue from advertisements. Partnerships and information about shows have not yet been announced.
Ntwrk will make money through the sale of products and partnerships with studios and brands. "We live between a content and e-commerce company," Levant said. "This is a blend of both of those business models." Ntwrk also will produce pop-up theme parks.
Ntwrk closed an initial financing round led by Warner Bros. Digital Networks and MSA Enterprises. It is a fund managed by Main Street Advisors. Its investors include music-industry giant Jimmy Iovine; basketball star LeBron James; James' agent, Maverick Carter, who also works as a businessman and media personality; movie star and former California Governor Arnold Schwarzenegger; and Tom Werner. Werner's production company The Carsey-Werner Company was known for TV shows including "Roseanne" and "The Cosby Show."
During his tenure as a trade-show director, Levant was known for experimenting with formats and taking risks. Producing consumer days has been frequently suggested to add revenue to fashion-industry trade shows. But Levant was one of a few to produce a consumer day. About 15,000 people attended the Agenda Festival consumer day in 2017. About 50,000 people attended ComplexCon, which features musical performances, pop-up shops, art galleries and food shops. It takes place annually in November in Long Beach.
The announcement of Ntwrk comes at a time of great change and experimentation in retail. Video is considered an up-and-coming way to retail, Greg Selkoe said. He is the founder of The Wanderset, which mixes digital commerce and video. He also was a founder of streetwear e-commerce company Karmaloop.
"Video commerce is the future! The younger generation expects to use video not only to make their buying decisions but increasingly to make purchases through video as well," Selkoe said. "Ntwrk will definitely will be a game changer just as Agenda and other things he [Levant] created were."
Ntwrk also announced a roster of executives who will work at the new venture. Gaston D Letelier will serve as vice president of licensing, and Jamie Iovine will work as its vice president of talent relations. Shanon Kelley will work as chief revenue officer. She will direct partnerships at Ntwrk. Before Ntwrk, she served as vice president of experiential partnerships for Vice Media.