MANUFACTURING
Sustainability Goes Full Circle at The North Face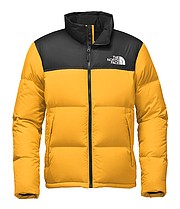 Maintaining its commitment to reduce waste, Alameda, Calif.–based activewear brand The North Face launched a pilot program that will promote a circular-fashion system through the sale of recycled products. The North Face Renewed collection features apparel sold by the outdoor brand that was returned to the company after use. Comprising returned, defective and damaged pieces, this campaign brings greater awareness to different sustainable shopping and manufacturing options.
After customers provide the previously worn apparel to the company, the pieces are then processed for resale. Following a thorough inspection, products are cleaned and refurbished during a process that ensures the items are repaired according to The North Face's standards.
Building upon The North Face's past environmentally conscientious practices, the Renewed line is meant to generate attention toward manufacturing and distribution that will reduce threats to the environment by using different methods of recycling. Through repairing and reselling secondhand items, The North Face hopes to fortify its presence as a vehicle for change toward greener practices in the apparel-manufacturing industry.
"At The North Face, we take a holistic approach to sustainability," James Rogers, director of sustainability at The North Face, said in a statement. "As we address the impacts of our products over their entire lifecycle, 'recommerce' is an important next step in opening new markets and minimizing our impact on the planet. We are furthering our sustainability goals without sacrificing durability or technical standards. Ultimately, as we work to scale Renewed, we will be proving a larger, circular model for the industry."
Through the Renewed line, The North Face will offer an array of pieces from different collections, including its Summit Series and Denali jackets. This opportunity also allows consumers an opportunity to purchase apparel from previous collections they might have missed and at a more affordable cost.
The current initiative is a pilot program that offers the collection exclusively online. While The North Face Renewed remains an e-commerce venture, the company is optimistic regarding the potential for the line's growth. The collection can be found at www.thenorthfacerenewed.com
.