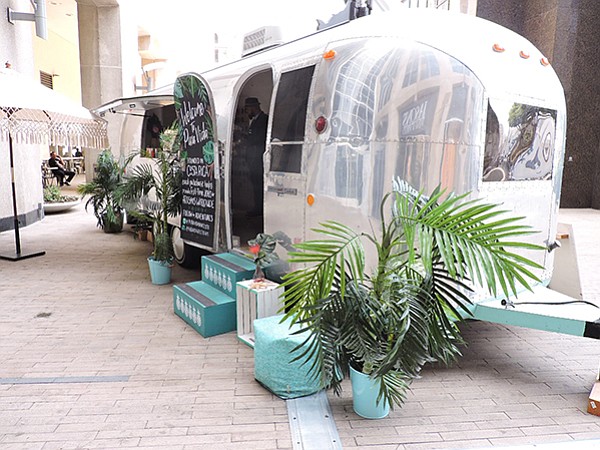 LA FASHION MARKET
Los Angeles Fashion Market Gets Buyers Ready for Holiday
For buyers attending Los Angeles Fashion Market, the event was filled with surprises that energized the June 18–20 buying show for the Fall II/Holiday season.
On the first day, visitors were greeted by a stainless-steel Airstream trailer parked in the front patio of the California Market Center. Bracketed by a white patio umbrella and potted palms, the gleaming trailer belonged to Pura Vida, which makes bracelets and other jewelry in Costa Rica. The trailer is a fun marketing tool that the brand takes to events including the Coachella Valley Music and Arts Festival and yoga gatherings.
Another change was the CMC's Select and Transit shows, which moved from the building's vast penthouse into the more convivial Fashion Theater.
Vendors were happy with the change because the new space gave the two shows—Select for emerging brands and Transit for shoes—a close-knit, inviting environment.
"This one is much cozier and warm. People just love it," said Titi Vu, the owner of the Tustin, Calif.–based brand Relished. Despite the new environment, Vu found the market was a little slow.
At the Select booth for Miami-based Z&L Europe, West Coast sales representative Vanessa Carranza was introducing clients to the boho-chic brand's Fall/Winter styles.
"This is the only show that we do here in LA. We have clients from the West Coast who know that we are here," she said. "We really wanted to give buyers the options to see that we still have Immediates for them to restock if needed and introduce our Fall/Winter collection."
On the CMC's third floor, Rebecca Pride—who represents lines including Shu Shu, Yu Li, LuLu and Kerri 'N Kelsey—was happily taking orders. With clients that include Soft Surroundings and Haute Look, Pride said buyers were ordering knit styles and designs that featured details such as heat transfers, studs, glitter and fringe. "We use the market as a catalyst to maintain our existing accounts, generate that business and bring in new accounts as well," she said.
New efforts by the CMC to generate buzz during market included the pink Lenita by Grita florist truck that was selling flowers in front of the building that first day.
On the 12th floor, there were complimentary lunches at Ignited Spaces, a new shared work space that recently opened.
Those were all great, but Pride would like to see a more cohesive marketing plan to generate more business for the building's showrooms. "There could have been more publicity, maybe online, or if the CMC had a customer database," she said.
Debra Harper, who owns Savvy Shack, a contemporary women's boutique in Culver City, Calif., was looking for trendy, yet chic, apparel for her clients, who range in age from 20 to 60. "I thought there would be more full showrooms. I thought it would be more," she said.
Despite her desire to see more lines in showrooms, Harper was ready to place orders at Select and Transit, where she felt her clientele was best represented.
"When I got here, on the first floor, they had several different wholesalers at Select downstairs. That was the best one. In fact, I am going to place an order with Z&L Europe," she said.
Good business at The New Mart
Showroom owners at The New Mart said that business was good at the recent Los Angeles Fashion Market, but they also noted that the trade-show business has been rapidly changing.
Vishaka Lama, of Showroom Five21, said traffic was not as vigorous as past June markets, which traditionally are slower than other markets. "June shows used to be so big," she said. "We had a lot of customers, but it was not as crazy as in past markets, where you are working all day. We'd rather have crazy."
Eme Mizioch of the Joken Style Showroom said that she saw more walk-in traffic during this market than in previous markets. But she forecasts most of her future business will come from the Internet. She believes showroom owners will be selling more through social media and their own websites.
"In the future, you'll have to have a strong online presence. Buyers aren't coming to markets as much. You have to sell them online," she said.
However, she said business was good. She introduced five lines for the market. They were French line Virginie Darling, Portuguese line Elsa Barretto, Seattle-headquartered Kareetta, Bali-headquartered La Luna Bali and Baruni, which is headquartered in Dubai.
Lisa Lenchner of Lenchner & Kane Sales reported an increase in traffic for the June market. She said news had spread about her showroom opening earlier this year. "We saw new stores. We saw a lot of our regulars," she said.
Showroom owners Jerry and Judy Wexler have been celebrating their 10th anniversary representing the Los Angeles womenswear brand Mystree. Jerry Wexler said that the June market's business was good and that more than 20 percent of his orders were for Immediates.
Expanded Designers and Agents
On the third floor of The New Mart, the Designers and Agents show has long been a platform for independent brands, but for its June 18–20 run, the show introduced a new section for lines with an independent spirit and point of view.
About 12 brands exhibited for the inaugural run of the section called Independent Goods, said Barbara Kramer, D&A's cofounder. The exhibitors showed wellness and beauty products as well as accessories and fashion.
Exhibitors included Los Angeles–headquartered lingerie brand Kent Woman and one-of-a-kind clothes from Japanese brand Prospective Flow.
The Los Angeles–based Eskay made its trade-show debut at D&A's Independent Goods. The line was started by Los Angeles fashion veteran Suss Cousins and her daughter Hanna. "We wanted to focus on vibrant knits and cashmere. We wanted to get it out for the holiday," Suss Cousins said. "We got orders. We got feedback at the show. It's a small show, but it's always busy."
About 50 brands exhibited at the curated show. Vendors included hand-painted silk brand Jaga, accessories brand Streets Ahead, knits brand LAMade and Philadelphia-headquartered Voloshin.
Amy Voloshin, the brand's founder, said that high-end boutique Stacey Todd shopped the show as did Rita's Rags of Santa Monica, Calif. Jaga founder Jaga Buyan said that she was pleased with the show. "We got some new orders. I'm happy," she said.
Buzzing business at the Cooper Design Space
John Lankshear of Focus Showroom said that recent LA Fashion Markets had seemed tougher for many showroom owners, but the June market seemed to dispel market blues.
"The first two days were the best," he said. "Everyone was confident. Everyone was spending. We didn't hear one store saying, 'Things are tough.' During this market, Focus introduced Outland Denim, which is headquartered in Australia. It is produced in Cambodia by women rebuilding their lives after surviving sex trafficking.
Israel Ramirez of the Siblings Showroom agreed the June market was better than expected. The showroom had a bumper crop of confirmations for market appointments. An increased number of walk-in traffic came with a surge in appointments, Ramirez said.
One reason why the market was good was that the Siblings Showroom serves a demand, Ramirez said. It can deliver garments four to six weeks after an order. That ability dovetails with many stores' buying. "They're buying late. People are waiting 'close-to-season' to order," he said.
Immediates also were important to stores that shopped at the Noella Showroom. "A lot of new stores are opening, and they needed Immediates," said Lien Vets, Noella's owner. She saw representatives of new stores in Santa Monica, Denver and Bozeman, Mont.
Retailers from leading boutiques such as Evereve, located near Minneapolis, shopped the show as did Los Angeles–area boutiques such as Diane's Beachwear, Planet Blue and M.Fredric.
Fred Levine of M.Fredric said he is feeling encouraged about the economy. He forecast that same-store sales for his boutiques will be up in the high single digits this year. Good times means that designers feel confident enough to take risks with fashion.
"I don't see a real trend explosion," he said. "Existing trends remain in place, but they are being tweaked."
More lines at Brand Assembly
A change in dates boosted the number of vendors exhibiting at Brand Assembly, located on the 11th floor of the Cooper Design Space, said Hillary France, the cofounder and chief executive officer of the trade show for contemporary women's fashions.
In past years, Brand Assembly's shows were scheduled in early June. But this year the show was held with the rest of market on June 18–20 so the dates would not compete with contemporary shows in other cities. In past shows, more than 60 brands exhibited. During the June show, about 90 brands participated, France said.
Retailers shopping the show included high-end Los Angeles stores including Ron Robinson, Elyse Walker and Kitross. E-emporiums Revolve and Zappos reportedly shopped the show, and Nordstrom also was reported to be there, according to show vendors.
Vendors said that the show's business was good. Dakota Hammond, a sales representative for New York–based brand Threads of Privilege, marked the show a success. "We saw key accounts. We met some new ones," Hammond said.
Diane Levin of the self-named Diane Levin Showroom exhibited apparel brands Junie and Lumie. She also exhibited accessories brands Onna Ehrlich and Alexa Stone. "Retailers are leaving orders. They're excited," she said.
John Eshaya of the Jet John Eshaya brand showed his line's Jet Set outfits at Brand Assembly. The Jet Set outfits match sweatpants with blazer-style tops. He noted that traffic was steady. "You see everyone you need to see," he said.
Karen Meena of Ron Robinson shopped at the show. She said soft knits continue to be popular for men and women. "Everything has a soft hand," she said. "Everyone has soft, cozy knits. There's a lot of star designs and metallic glitter, which will be fun for Holiday."
Going to the Gerry
The Gerry Building has always been a destination building where walk-by traffic is rare during Los Angeles Fashion Market.
Showrooms do well if they set up appointments ahead of time or get traffic from tried-and-true buyers who know the location of their favorite sales reps.
A tried-and-true believer in appointments is Joey Miller, whose Joey Miller Showroom has expanded to two sides of the seventh floor. Miller, who was busy showing a retailer one of the various knit labels he carries, said he had seen 57 people in two days because of appointments. "It's a lot better than last year," said the energetic Miller, who was zipping around the showroom packed with knit dresses, tops and tunics made in Turkey, Italy, Israel, Cambodia and Bali.
He said he was selling Immediates and Fall items at the same time as opposed to buyers taking notes and leaving, which has been more typical in the past.
Miller recently started representing Kippys, a San Diego label of contemporary leather jackets and belts created with artistic embellishments of studs, rivets and crystals. Erik Kipperman, whose grandfather started the Kippys company in Coronado, Calif., in 1948, was in the showroom with a display of his handmade leather jackets that would be right at home in the music world.
He said the response had been good to his unique leather jackets, which wholesale from $500 up to $3,000, but no firm orders were written during market.
Judy Kurgan, who represents Beluva blouses made in San Francisco and Andrea Lieu jackets made in Chicago, was taking a temporary space at the Arlene Henry Showroom on the ninth floor.
She said she thought this market was a little slow. "People don't come to the Los Angeles market five times a year, and this is just after Father's Day," she said. "People will skip this market and the August market to go to Las Vegas and get an overall view."
However, she had seen retailers from Arizona, Oregon and around the Los Angeles area. She was waiting for an appointment she made with a Palm Springs, Calif., retailer.