MANUFACTURING
Boardriders Chief Eulogized With Paddle-Outs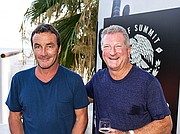 The life of Pierre Agnes, chief executive officer of surfwear company Boardriders Inc., will be memorialized with a number of paddle-outs at sea.
In a paddle-out, surfers remember friends by paddling out into the ocean, straddling their boards and linking hands to honor a friend's memory.
Agnes will be remembered by paddle-outs on three continents. A paddle-out near the Quiksilver Pro Gold Coast event off of Queensland, Australia, is scheduled for March 13. Another paddle-out by the Huntington Beach Pier in Huntington Beach, Calif., is scheduled for 9:30 a.m. on March 16. A third paddle-out off the southwest coast of France, where Agnes was lost at sea, is scheduled for later this spring.
Agnes is believed to have disappeared after his boat was found washed up near Hossegor, France, on Jan. 30. The French coast guard and his friends combed the seas for the 54-year-old executive, but the search was called off a few days later. Dave Tanner, the new chief executive officer of Boardriders Inc., encouraged surfers to join the paddle-out.
"Pierre loved the beauty of the ocean and lived his life on the water as a surfer and waterman. There is no more fitting way for us to celebrate and honor Pierre's life than with a paddle-out. We welcome all who knew and loved Pierre to join us and remember a man taken too soon," Tanner said in a statement.
Tanner helped guide Boardriders' predecessor, Quiksilver Inc., through Chapter 11 bankruptcy filed in 2015. In March 2017, a year after emerging from bankruptcy, Quiksilver officially changed its moniker to Boardriders Inc. It is the parent company of the brands Quiksilver, Roxy and DC Shoes.
RELATED STORIES