TRADE SHOWS
Former Nike Executive to Helm Agenda Show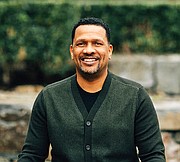 Reed Exhibitions named Ron Walden as its group vice president and head of the trade-show giant's fashion and festival portfolio.
Walden will run five of Reed Exhibitions' events, which include Agenda, Agenda Festival and ComplexCon.
The announcement comes more than a month after Agenda founder Aaron Levant announced he was leaving to pursue other entrepreneurial ventures. Levant ran his last Agenda show in February in Las Vegas. Reed Exhibitions said Levant will serve as a consultant to the Agenda show.
Walden most recently worked as a Los Angeles–headquartered senior sales director for Nike. He also worked as a vice president of sales for the MAGIC trade show, according to his LinkedIn profile. He is scheduled to start his new job on March 19 at the Agenda offices located in the California Market Center in downtown Los Angeles' Fashion District.
In a statement, Levant said that Walden will bring a smooth transition to an organization that Levant has led since its founding 15 years ago. "I've known Ron for more than 10 years, and I'm confident he is the perfect person to carry my vision and legacy alongside our talented team," Levant said. "Ron has been both a friend and colleague. I'm honored to have him continue to lead the group I've built at [Reed] with his deep understanding of culture, brands and retail."
Walden said he planned to continue Agenda's spirit of innovation. "I'm excited for the opportunity to connect the dots, building progressive platforms, pushing boundaries and disrupting our industry's norm," he said.
Agenda started in 2003 as a small, independent trade show for streetwear brands. The trade show grew as the popularity of streetwear expanded.
When Agenda's chief rival, Action Sports Retailer, shuttered in 2010, Agenda became the prominent West Coast trade show for action-sports brands to exhibit. Agenda runs biannual shows in Long Beach, Calif., and Las Vegas.
In 2016, Levant got into the consumer business when he introduced ComplexCon. The show produced pop-up style retail from high-end sneaker brands such as Adidas and Nike as well as from emerging brands.
Levant said that 50,000 people attended ComplexCon's sophomore event in 2017 at the Long Beach Convention Center in Long Beach, Calif. In July 2017, he produced a consumer day at Agenda, called Agenda Festival, which offered hip-hop and rock acts along with art galleries, food trucks and pop-up-style retail.