MANUFACTURING
Cherokee CEO Says the Old Ways of Brand Management Are Over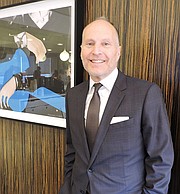 When Henry Stupp became the chief executive of Cherokee Global Brands in 2010, revenues at the brand-management company had been declining for five years.
No longer was it possible for the enterprise to sit back, license a brand name and collect the royalty checks that rolled in from primarily Target, which had signed on as a Cherokee licensee in 1993. Cherokee executives used to joke about the paper cuts they were getting from the checks they were processing.
Those days have changed. "When I joined the company in 2010, Target's retail sales in the United States for Cherokee had declined from $2 billion to $700 million, and it was declining in other pockets of the world," said Stupp, who was speaking about how to monetize intellectual property and brands at a talk organized by the fashion and intellectual-property attorneys at law firm Freeman Freeman & Smiley. "Cherokee had great equity, but it was clearly struggling."
In the past, Cherokee didn't have the right to approve a product, decide which factories produced the label or even what a Cherokee label should look like. "Before brand management was simpler. A manufacturer could get a logo, slap it on a garment and sell it. Today it has become much more difficult. You can't ride it until you go onto the next brand," he said. "Before, retailers were cycling through brands, and it was confusing for the customers."
So Stupp set out to give retailers more bang for the company's brand names by helping them develop product, find factories, market the product and help with social media. "We were going to be engaged as opposed to being pure check collectors," he said. "We were going to be a strategic partner with our partners."
With retailers struggling more than ever, Stupp said there was a need for Cherokee to help them drive their business. "We were letting them do everything on their own," he noted.
He analyzed the situation and set up three principal pillars to grow the company's brands. Those pillars were vision, agility and skills. The vision part involved providing the licensees with product design, product sourcing specialists, category expansion, supply-chain development, marketing, and social and digital media bloggers.
Agility involved being nimble and being more responsive than ever before in this era of fast-fashion retail. "Retailers today are stretched thin, and the retail landscape is getting flattened," Stupp said.
The skill part involves choosing good brands to buy. The chief executive said he probably gets a request every day to buy a brand. "I could sit there and say, 'That brand is for sale. That brand is for sale, and that brand is for sale.'"
But he has a fine-tuned formula for selecting a brand that will make money. A good brand must be able to expand into all categories and retail departments: men's, women's, children's, footwear, accessories, home and other products."
Frederick's of Hollywood made a pitch for Cherokee to buy its brand, but Stupp said the brand name did not have an extensive reach into children's and men's. "It was not multi-category or dual gender," he said. "But it is the right brand for the right company."
He said a multi-category brand helps retailers maximize their budget when marketing various categories of a label. Brands also need to be omnichannel, being able to be sold online and at various stores.
Cherokee, which was founded in 1973 in Los Angeles as a footwear brand, now has 12 labels in its portfolio. They include Carole Little, Liz Lange, Sideout, Tony Hawk, Point Cove and Flip Flop Shops. In 2016, it acquired Hi-Tec, a Dutch footwear brand founded in 1974, which also included the Magnum brand.
Hi-Tec fit the formula. It has a good following and is easy to expand into other categories. Stupp observed that it is easier for a footwear brand to extend into apparel, but the reverse is more difficult. He referred to the less-than-stellar crossovers of Under Armour and Champion into footwear.
With multiple possibilities for the brand, Cherokee was expecting that Hi-Tec's expansion into men's and women's apparel and accessories would generate in its first year about $19 million in licensing revenues.
In 2017 Cherokee's revenues totaled $40.6 million compared with $34.6 million the previous year.
Stupp advised that it is better to acquire a brand that still has some life rather than one that has been sitting in the bone yard because it's hard to resurrect a dead brand. "And we would not step into a situation where a brand has a reputation for bad products," he added.
Another factor to consider is whether a brand has global intellectual-property protection. "IP protection is your single most valuable asset," Stupp noted.
Cherokee also selects brands that create synergy between each label and that work well together. "We would not go into the toy business," he said. "That's not what we do. We operate global lifestyle brands. We want brands that don't overlap but sit well together. We operate like a mall that has big-box retailers, specialty stores for women and for men, and sportswear stores."
With retailers being more mathematical these days, Stupp said it is more important than ever to educate retailers and licensees about why they have to have your brands. "Today it is more about science than art for retailers. It used to be a combination of art and science," he said. "Bricks-and-mortar stores are suffering today. They have lost their merchandising sense and the ability to predict trends. A good brand supplier can teach them, but you have to have credibility to do it."