MANUFACTURING
Impulse Moda Showroom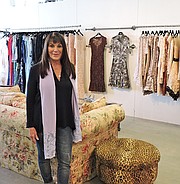 The Gerry Building, Suite 908
(213) 629-5666
After four years of operating her Impulse Moda showroom on the eighth floor of the Gerry Building, Lori Marchand moved up a notch at the beginning of the year to the ninth floor, where there is a friendly vibe because all the showroom owners have known each other for years.
The light is more abundant with windows overlooking Ninth Street, and the space is larger, which leaves more room to display the four high-end lines that Marchand represents. "This showroom has just opened up everything," Marchand said. "This is the floor to be on."
Racks on one side of the showroom display her main line, Olvi's, which is based in Amsterdam. The cocktail dresses and evening dresses, which wholesale from $375 to $750, are heavy on frilly looks. So are the haute-couture pieces that wholesale for $1,000 to $1,800. Olvi's bridal gowns are displayed around the corner in a special bridal area with lots of white and lace.
Becca Kufrin, one of the finalists on ABC-TV's "The Bachelor," wore a black Olvi lace dress when Arie Luyendyk Jr. proposed to her in Peru.
On the other side of the room is another high-end collection called Byron Lars Beauty Mark. The eclectic and whimsical label has tops and dresses that can sometimes be made from 20 different fabrics and can be accented with beads or ribbons. Tops wholesale for $75 while dresses go for $385.
A label many locals may recognize is Harari, which is a Beverly Hills women's store that also wholesales tops, tunics and dresses. The line, which is made in the United States, uses luxury fabrics including 100 percent silk or silk blends. The pieces wholesale from $65 to $250.
For years, Marchand has carried the Ball of Cotton sweater line, which is manufactured in Commerce, Calif., and was touted as the line that made Ralph Lauren's opening and closing ceremony sweaters for the U.S. Olympic team in 2014.
Ball of Cotton sweaters are made of luxury yarns, are handloomed here and wholesale for $110 to $180.