RETAIL
Allen Schwartz Closes Flagship Store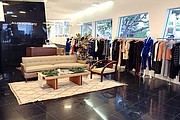 After a 30-year run in Santa Monica, Calif., the flagship store for the Allen Schwartz label has closed its doors.
Allen Schwartz, creative director and principal of the downtown Los Angeles–headquartered label, said the lease was up for his 3,000-square-foot flagship at 1533 Montana Ave. and he chose not to renew. Instead, he wants to focus on e-commerce, wholesaling overseas and continuing to supply domestic specialty stores with Allen Schwartz styles.
"I was very happy to be part of the community on Montana. I am very happy with the accomplishments we achieved there over the last 30 years," he said. "I don't think my product is still good for today's customer base on Montana. It was good for the '80s, the '90s and the aughts. It was a suiting time, and a lot of agents and actresses shopped here. But the whole fashion cycle has changed."
The flagship closed with little fanfare on Feb. 28, with the three people working at the store no longer with the company.
The closure of the flagship comes at a time of upheaval for retail. "I love the business. I'm as passionate about it as I ever was. But you have to adjust," Schwartz said.
The closing of the Montana Avenue flagship came two years after Schwartz stopped selling to department stores. "They are the biggest discounters of all. It hurts the core business. There is no way to control them," he said.
Schwartz had become very frustrated with many department stores' chargeback policies, where retailers demand payments for alleged errors made by the vendor. Also vexing were consumers demanding discounts at the Allen Schwartz flagship store because they had seen the same garments selling for less at a department store. "I want to be paid for all of the good we are doing," he said.
Schwartz said that his flagship was a pioneer on Montana Avenue. He remembered being the first contemporary retailer on the thoroughfare in 1988. When he opened, the street was lined with neighborhood businesses such as bars, ice cream parlors and laundromats. For the past 25 years, Montana Avenue has been the address for womenswear boutiques as well as restaurants and cafés.
The closure of the Allen Schwartz flagship also marks the final chapter of the company's retail. More than five years ago, Schwartz ran 12 stores, with locations from Orange County and Pasadena in California to New York. He also chose not to renew the leases for those stores.