TECHNOLOGY
NuOrder Extends Online Trade Show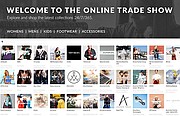 At the beginning of the year, the NuOrder business-to-business e-commerce platform worked with the Agenda trade show to produce a digital extension of the event.
Recently, the Los Angeles–based NuOrder announced it is opening up its digital trade show. Brands not exhibiting at Agenda's physical trade shows will be able to participate in the online marketplace, and their online operations will not be affected by Agenda's schedule.
On the digital marketplace, buyers will be able to view digital catalogs and line sheets from different brands and electronically place orders. Unlike a physical trade show, buyers won't be able to touch and try on garments. However, they won't be restricted by business and travel schedules to make a deal with a brand, said Heath Wells, the chief executive officer of NuOrder.
"Just as consumers expect to buy almost anything online, at any time, retailers now also expect to place orders from brands 24/7," Wells said in a statement. "Buyers are constantly seeking out brands and working to get their customers new products as quickly as possible. We see the online trade show as one solution, allowing brands and retailers to collaborate more regularly, both inside and outside of the trade-show setting."
About 500 brands joined NuOrder's online trade-show pilot earlier this year. The top five successful brands received 150 sales leads, according to a NuOrder statement.
The market for online trade shows is heating up. UBM, the parent company of Las Vegas' MAGIC trade show, runs an online trade show called ShopTheFloor. This year, it unveiled premium features for the online trade show.
The new features include SalesMatch, a matchmaking service that aims to connect store brands and prospective customers. Another new feature, Lead Insights, gives brands intelligence on which buyers are shopping its products, said Vince Tsai, senior vice president and general manager of ShopTheFloor.