RETAIL
Australia's Honey Birdette Rolling Out a Chain of U.S. Lingerie Stores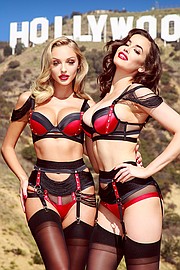 The lingerie label Honey Birdette started out in Australia in 2006 as a tiny boutique in Brisbane's West End—a hip area known for its bars and ethnic restaurants. Over time, the label grabbed people's attention by selling to bachelorette parties that visited the store.
Three years later, the lingerie label was expanding its retail reach to a Brisbane mall operated by Westfield, where mall traffic outpaced foot traffic on Honey Birdette's retail street.
Soon after, when a jewelry retailer shut down its mall locations, the lingerie label took over the 25 outposts located in Westfield malls, other malls and on retail streets.
Now the lingerie retailer, with 55 Australian stores, is expanding to the United States with its first location opening in October at Westfield Century City in Los Angeles, followed in November by a boutique at the Westfield UTC mall in La Jolla, Calif.
Other locations might include a store on West Hollywood, Calif.'s Melrose Place. In the next two years, the brand plans to open 15 flagships around North America in cities such as New York, Austin, Miami and Vancouver, said Eloise Monaghan, the label's founder.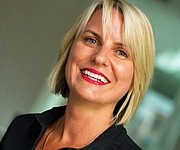 Last month, the company opened its first U.S. office, located in Hollywood, and a warehouse in the Los Angeles area.
Expansion to the United States seemed a natural next step because America is a big market for the Australian brand. Online orders from the U.S. make up 35 percent of the brand's sales.
To mark Honey Birdette's California arrival, the company produced a short film of models wearing the label's lingerie in front of Los Angeles landmarks, including the Hollywood sign.
Since the label's start, Honey Birdette has always mixed erotica with a puckish sense of humor in its marketing and advertising campaigns, which have been controversial.
Collective Shout, an Australian advocacy group against the objectification of women and girls in the media and advertising, has criticized Honey Birdette and has demanded that Honey Birdette change its advertising campaigns. In a petition, it said it had collected 61,000 signatures opposed to the media campaigns, Collective Shout said.
Monaghan called the petition misguided. "You see more flesh on Bondi Beach at 10 a.m.," she said of a popular seaside area in Sydney. She also believes her company is a victim of a double standard because there is no outcry about ads showing men clad only in underwear. But show a woman in lingerie, and some people become furious.
Monaghan credits her label's growth to the company's inspiration taken from fast fashion and luxury.
Lingerie is an increasingly popular category throughout women's fashion. The Victoria's Secret brand is prominent in the category and runs more than 1,100 shops in North America. The category has ramped up for digital-era innovations. In the past decade, Internet startup lingerie brands such as True & Co. and ThirdLove have told consumers that their company's algorithms can help women find better-fitting bras.
Courtnee Scully, the lead stylist for West Hollywood, Calif.–headquartered La La Luxe, a styling and personal shopping company, said that lingerie has become more influential in fashion. "Celebrities and social-media influencers alike have turned bare skin into a status symbol, especially in Los Angeles. It's fashionable to wear lingerie every day as ready-to-wear rather than just as under garments and in the bedroom," Scully said.
Also, swimwear and activewear designs have recently been influenced by lingerie, she said.
Upcoming Honey Birdette stores will probably be divided into three rooms. The largest room will have the label's lingerie collections. A smaller, second room will feature accessories and toys, and the last room will be a fitting room with a velvet sofa. "It's a one-stop shop for the bedroom," Monaghan said.