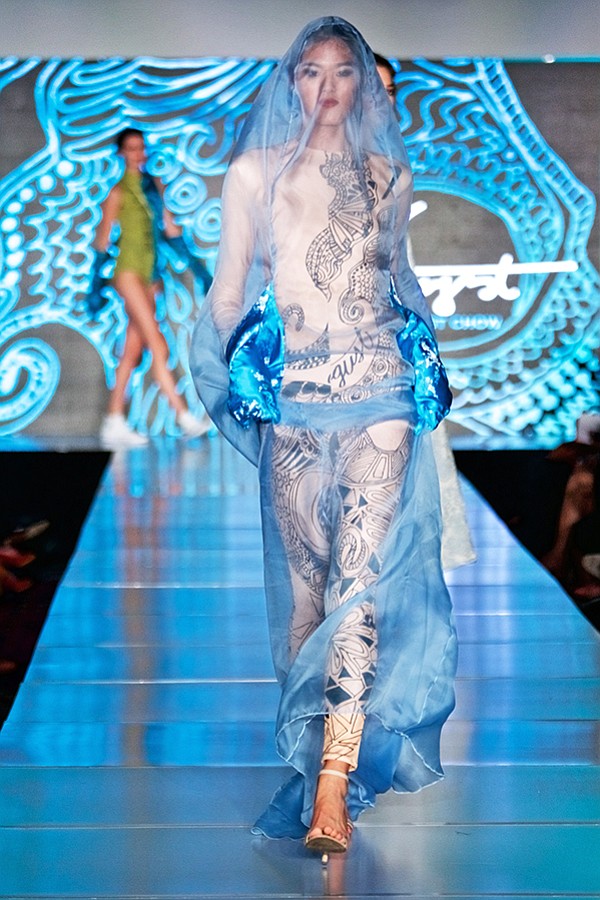 RUNWAY READY
Woodbury Puts 'InnerVision' on Runway
Photo Gallery
Woodbury Puts Its 'InnerVision' on the Runway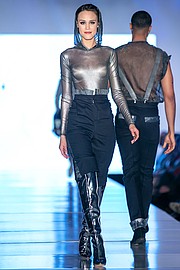 Photos by Volker Corell
Woodbury University presented its 54th annual fashion show, called "InnerVision," which focused on the connection between emotion and fashion.
"These designers made personal stories. They put together garments to make an emotional connection with customers," said Anna Leiker, the chair of the fashion design department at the university, located in Burbank, Calif.
The 14 graduating seniors who showed their fashions on May 5 at the Millennium Biltmore Hotel in downtown Los Angeles put together looks inspired by their aesthetic interests, personal and, sometimes, family histories.
Yvan Tran made looks inspired by California's action-sports lifestyles and the natural environment of Vietnam, the country from which her parents immigrated.
Stephanie Zarate devoted her senior collection to musings about the happiness of youth and her interests in music and animation. Nouf Alhazmi made a collection of one-of-a-kind pieces intended to be worn by women from her native Saudi Arabia. Kentajia Smith's collection took avant-garde silhouettes and mixed them with the most fanciful colors of brightly colored beetle shells.
Sophi Melikian's collection was inspired in part by the early-20th-century uniforms of the Armenian Revolutionary Federation. One of her great-grandfathers fought with the group. Satenik Kalyan also was inspired by her family's Armenian culture.
Heather Baughman's senior project was inspired by her love of heavy-metal music and its focus on rebellion. Joelle Haiek made a collection called "Buoy-ant," which focuses on being optimistic and able to thrive.
Alejandra Marroquin was inspired by the ocean. Alice Ramirez's collection
took its cue from making imperfect things beautiful. Merced Verbena Jackson focused on women's empowerment, and Mariam Aleem explored different looks in denim. The diversity in denim symbolized the diversity in people, she said.
August Chow's collection was called "Blue Vincent." "I was inspired by the power of imagination," she said. Melissa Zarate's collection, called "The Land Between Solar Systems," was inspired by the austere landscape of Iceland.
At the show, Melissa Zarate was honored with the Judith Tamkin Fashion Award for the most innovative senior collection. For this honor, experts from the fashion industry judged students' creative and technical skills in making a garment.
Woodbury fashion-design students spend the academic year preparing for the show before graduating with a bachelor's degree in fine arts. Their collections serve as a portfolio to show prospective employers, Leiker said.
The program's sophomore and junior students also showed some designs during the show.