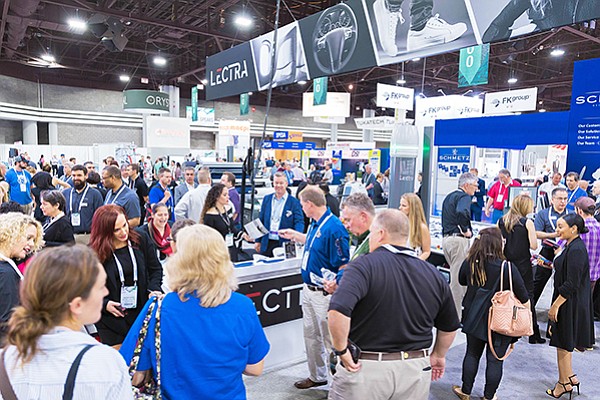 HIGH-TECH APPAREL PRODUCTION
Automation and High-Tech Collaborations Are the Future for Apparel and Textile Industries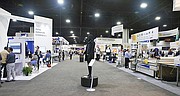 ATLANTA—Micro factories, made-to-order programs and the automation required to put these systems in play were big themes at the recent Texprocess Americas exhibition.
Collaboration was also apparent, with vendors combining for interesting demonstrations of how their products can work together, as seen at the May 22–24 show, which is one of the largest U.S. trade fairs for equipment, sewn products and technology. It was colocated at the Georgia World Congress Center with Techtextil North America, which showcases technical textiles and other items. The events brought 567 exhibitors from 32 countries. Both shows were coproduced by Messe Frankfurt and Spesa.
One such collaboration at the show was between Gerber Technology, Kornit Digital and Henderson Sewing Machine Co.T he three combined to demonstrate an integrated workflow with the goal of showing how technology can make made-to-order a reality.
The demonstration featured Gerber's "AccuMark" and "AccuMark 3D" for product design, Kornit Digital's "Allegro" printer, Gerber's "Z1" single-ply cutter with "ContourVision," and an Omron robot autonomous intelligent vehicle (AIV) integrated by Henderson. The AIV transported cut parts to Henderson's robotic sewing station.
Gerber's Karsten Newbury, senior vice president of software solutions, believes this type of system is needed by apparel brands, suppliers and manufacturers to bring the entire process together with great potential to reduce waste in the supply chain. Gerber has a longstanding relationship with Henderson and has been working with Kornit for a couple of years. "This is about developing the ability to respond to demand," Newbury said.
Frank Henderson, chief executive of Henderson Sewing Machine Co., acknowledges that micro factories will help solve the labor shortage affecting U.S. apparel manufacturing, but he says it is also about the movement toward on-demand production of garments. "We all grouped together as partners in a collaborative effort to explain to the world that you can have a factory in a 40-foot-long semi-trailer," he said. "It's scalable, of course. You can have one up to thousands. It takes a lot fewer people and is far more flexible."
CGS partnered with Juki America to showcase its "BlueCherry Shop Floor Control" and smart factory system. "It's an integrated solution for manufacturers and improves visibility and productivity," said Paul Magel, president of the CGS application solutions group. "It can track piecework and incentive calculations and helps keep operations efficient throughout the day."
Magel said CGS has a strong history with BlueCherry, with versions used across the globe for years. He said the recent innovations are about collecting actionable intelligence and analytics while enhancing previous CGS developments. "We're providing tablet-based analytics where supervisors can walk the floor and work directly with operators," he said.
On the cutting-room floor
Lectra unveiled its "Cutting Room 4.0" digital product. The company said it is the first cloud-connected digital-cutting system, which combines a digital-cutting platform data hub with a new single-ply cutting machine. Adams said Lectra's equipment has more than 160 sensors providing feedback.
"From a made-to-order perspective, it's a big step toward mass customization," said Jason Adams, president of Lectra North America. "With the millennial crowd being more choosy and impatient consumers, we need to look at how to be more responsive, get to the market faster and get items in hands quicker. This isn't just about the hardware. It's really a digital platform on top of the hardware."
Will all of this technology bring more apparel production back to the U.S.?
Adams said he's seeing some movement from Asia to Central America, Mexico and the U.S., but it's probably not accelerating as fast as some predicted.
He noted that companies are looking at automation technologies because the U.S. doesn't have the skilled workforce for sewing operations that it did years ago. However, the industry is working on it.
Buhler Quality Yarns of Jefferson, Ga., was a participant in the SEAMS Supply Chain USA Pavilion. One of its featured products was Ecosil yarn, a low-pill product developed by Buhler's new parent company, South Korea–based Samil Spinning. "Pilling seems to be a key problem at the consumer level," said David Sasso, Buhler's vice president of sales. "Ecosil helps reduce pilling."
Ecosil is produced on air-jet spinning machines. Sasso said Buhler is in the process of taking out some of its ring-spinning machines in Jefferson and replacing them with air-jet machines. The new machines will also allow the plant to increase its output while maintaining its current 120-person production staff.
Sasso noted that when the plant opened in 1996, 99 percent of its production went into woven home textiles. Today, 95 percent goes into knit applications.
Amid all of the new products was the debut of a new service plan from sewing-machine manufacturer Merrow Sewing Machine Co. A firm based in Fall River, Mass., it touted its new service, which aims at tackling the shortage of sewing-machine mechanics in the U.S.
Merrow users can ship their machines to the company's headquarters, where they are repaired and shipped back within two days. "It can change what people are able to manage," said Merrow Chief Executive Charlie Merrow. "It's not just a repair program; it's a remote service program. There are no hidden costs. You need to have a Merrow [-trained] mechanic around, but if you don't, we can be there to support you."