TRADE SHOWS
California Denim Leaders Head to Amsterdam to Discuss the Industry's Future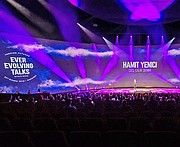 Descending upon Amsterdam for the city's jeans-focused, event-filled week, leaders from the world's denim industry met to share ideas, unveil innovations and work together to make a better supply chain. With events scheduled throughout the city by apparel-industry leaders, local shops and global apparel makers, California brands headed to the Netherlands to meet with their international peers.
Calling on denim's kingpins
From Oct. 22 to Oct. 28, Amsterdam hosted its Denim Days, and from Oct. 24 to Oct. 25, Kingpins Amsterdam held its biannual trade show in the region. Launched in 2004 in New York, Kingpins now produces annual events in Hong Kong and China and shows twice a year in New York and Amsterdam. The show not only brought together leaders from the global denim industry but also newcomers who wanted to learn about innovative manufacturing.
"It's nice to feel that you're part of a community," said Andrew Olah, the founder of Kingpins. "It's nice to meet people who do the same things we do, and I think that is delightful. All trade shows provide a lot to do, but I think Kingpins is beautiful, and that is something that I am really proud of."
Echoing this sentiment, Jessica Dorfman, the head designer of Los Angeles–based Re/Done, was excited to see established contacts who share her passion for denim.
"The show is much larger than New York. There are many more mills, and it's nice to be surrounded by brands from around the world," she said. "It's important to represent California because we have a specific point of view, and I think we need to represent internationally."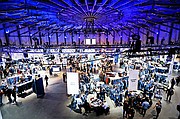 In addition to including denim-manufacturing innovations on the trade-show floor, Kingpins organized a Transformers Summit and Transformers section, which is a new area introduced earlier in 2018 to showcase the work of denim innovators. In the Transformers Summit, Kingpins hosted panel discussions and breakout sessions to provide education and opportunities for collaboration.
"Our Transformers Summit is an event that we do with a lot of love," Olah explained. "It's about incredible people who bring their transformative technologies or experiences to the event, and we had an incredible standing-room-only crowd."
Denim veterans were extremely impressed with the show, citing the inspiration found at an event dedicated to their craft.
"The show was absolutely amazing. There is nothing like this in the world," said Adriano Goldschmied, founder and chief executive of the Los Angeles–based Genious Group. "The entire city is breathing blue—stores, people, schools, brands and professionals. All the events—Kingpins for sure—but also Transformers and Denim Days are the perfect inspiration for all of us."
Goldschmied's daughter, Marta, also found value in Kingpins' ability to serve as a creative space for denim veterans and newcomers to collaborate on the industry's future.
"It's so special because it's a place where the most creative, forward-thinking denim leaders have a chance to come together with a fresh generation of designers to learn from each other and collaborate," she said. "It's really a chance for the old and new generations to connect in a fun environment."
While the elder Goldschmied was impressed with the show in Amsterdam, he felt the camaraderie found at Kingpins is an asset missing from the local Los Angeles industry.
"The sense of the denim community is something that we miss in L.A.," he said. "It is the engine in the denim innovation."
Evolving toward a better apparel industry
Prior to exhibiting at Kingpins, Istanbul's Calik Denim launched its inaugural Ever Evolving Talks on Oct. 23 in Amsterdam. The event, held at the Theater Amsterdam, challenged apparel-industry professionals to look toward the future, beyond business as usual.
"Our 'Ever Evolving' motto reflects our vision to continually progress," said Calik Denim Chief Executive Officer Hamit Yenici in a statement.
In addition to panels that identified the demands of millennial consumers, a discussion regarding "The Power of Collaboration" also took place, addressing the often-ignored need for apparel-industry professionals to work together in the name of progress.
Building upon the company's motto of "Ever Evolving," the inaugural event included speakers such as designer Willy Chavarria and Ken Segall, the former creative director of Apple.
"The buzzword in everybody's vocabulary now is sustainability. Everyone was talking about the core values of a brand—how they become sustainable—and collaboration," said Barbara Bundy, vice president of education at Los Angeles' Fashion Institute of Design & Merchandising. "He [Segall] pulled everything all together by talking about innovation and simplicity."
At Ever Evolving Talks, exploring the future of the industry included examining wearable technology and discussing how to include sustainability as part of a company's core values rather than treating it as a fad.
"It's not just our brand that we aim to move forward; we created Ever Evolving Talks by Calik Denim to move our sector into a more sustainable future, breathe new life into existing events and fulfill our promise to be truly 'Ever Evolving,'" Yenici said.