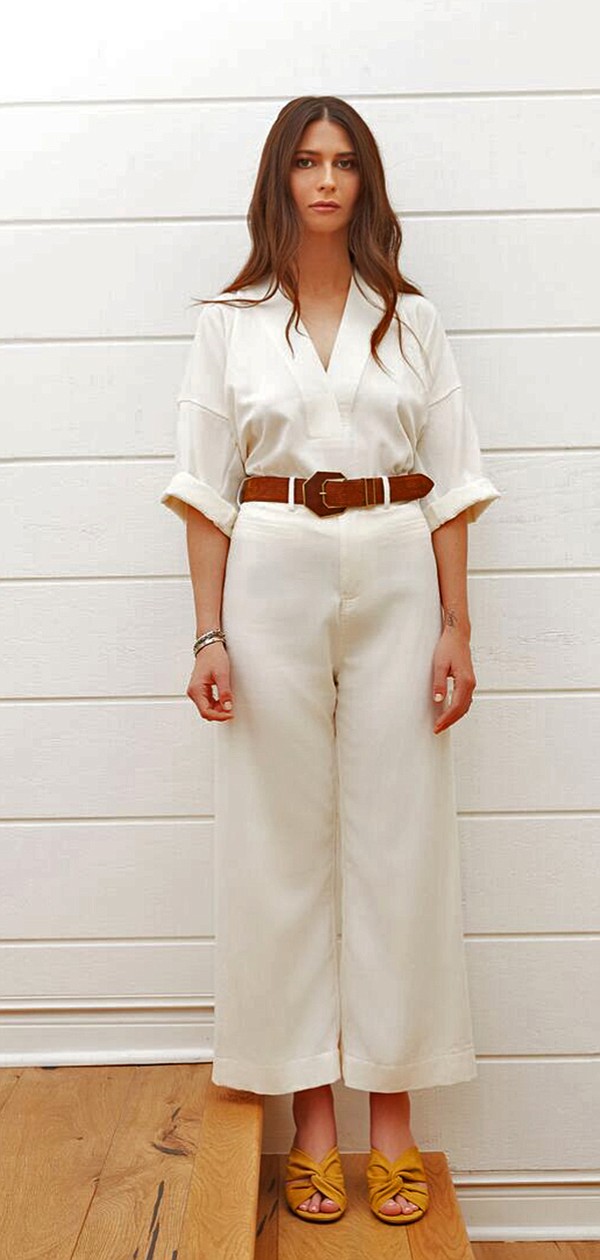 DAMES OF ECO-DESIGN
Dame Launches to Blend Chic Fashion With a Sustainable Lifestyle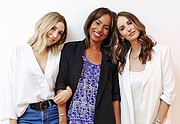 Starting with a friendship that has grown for more than 10 years and apparel-industry experience that has spanned their entire careers, Alexx Monkarsh, Molly Levin and Wells Butler wanted to create a positive impact through clothing.
The trio decided to collaborate on a sustainable, socially conscious brand of apparel that stands apart by creating an online eco-conscious fashion-lifestyle destination. Named Dame, the brand launched in Los Angeles on Nov. 1 with manufacturing based in downtown L.A.
"When I was done with my previous line, I connected with Molly, who is also my sister-in-law and a stylist," said Monkarsh, a Los Angeles native whose previous label was Alexx Jae and Milk. Her mother is Debbie Levin, president of the Environmental Media Association. "We wanted to start this direct-to-consumer fashion world that provides a great uniform for women and also a styling component."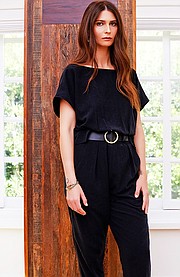 As a stylist, Levin brought a fashion expertise to Dame that allows the brand to expand into the lifestyle category. This reach will see the brand providing styling tips with each purchase and serving as an online destination where clients can find the input of fashionable guests, which will include actress Malin Akerman, known for her role as Lara Axelrod in the TV series "Billions."
"Nine times out of 10, somebody sees something online, thinks it's super cute, orders it and doesn't know how to put it together after it arrives," said Levin, who also grew up in Los Angeles. "Wouldn't it be nice to include a style card with everything that they order? We're providing style cards to build their confidence so they can know that they, too, can be a stylist."
In addition to manufacturing limited-run pieces from upcycled dead stock, the company sells vintage styles that complement the collection. The company's pieces will be released nearly every month, and vintage stock will be consistently refreshed as new pieces are sourced.
"The fashion market is so saturated," said Butler, the owner of Primp Clothing line. She grew up in the Midwest, where she relied on shopping for vintage pieces to re-create on-trend looks. "In order to set yourself apart, you have to have a different component," she said. "I love the hunt, going through racks to find special pieces, and it's something that I enjoy doing for Dame."
Each limited-run collection will include 11 to 15 basics created in beautiful fabrics from quality dead stock. For its first Back-to-Basics collection of T-shirts, tank tops, blouses and pants, Dame is launching with easy-to-style pieces that complement one another.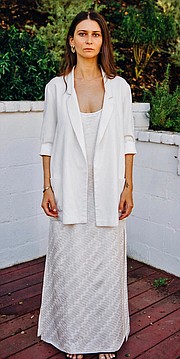 "We wanted to start our line with the base of a client's wardrobe—the building blocks of your closet," Monkarsh said. "We're all mothers, working women and busy, but we want to grab something that is easy to go while still looking chic and tailored."
For their clients, the Dame women want to provide options to appear effortlessly styled by allowing the company to plan their wardrobe. It was through their own personal difficulties balancing their demanding lives with looking chic that the women devised a plan for Dame.
"Less and less do I want to think about serious outfits: jeans, a belt, blouse, a blazer, shoes and the right bag," Levin said. "I have to grab something quick, which doesn't require a lot of thought and is comfortable, but I have to look nice when going to a fitting or pulling pieces in Beverly Hills."
For the founders, it was extremely important to choose a manufacturing partner whose practices were ethical and offered fair wages in addition to having sustainable-apparel creation. By making their EMA Green Seal–approved clothes locally, the women are reducing their business's carbon footprint and supporting Los Angeles' economy.
"They are awesome and want to be as green as possible," Monkarsh said of the unnamed factory where Dame is manufactured. "In 10 years, I hope we live in a world where brands do sustainable fashion and consumers are conscious about what they're wearing," she said.
As upcycling and clothing resale rise in popularity among consumers, Butler emphasizes the flexibility that manufacturers and shoppers have when choosing sustainable-apparel options.
"Sustainable clothing could be anything," she said. "You could do couture that is sustainable."
The handcrafted pieces in the Dame collection are sized XS to L, which will fit a standard size 10 or 12. Fabrics are sourced by Tori Monkarsh, Alexx's niece and the company's production and development lead, who scours the city for fabric resources.
In addition to the T-shirts, tank tops, pants and blouses, the women were sure to include a kimono jumpsuit, slipdress and a comfortable, yet stylish, blazer, which can be paired with any piece in the collection to add a classic look.
"We're combining elevated basics that we are manufacturing ourselves, with vintage, and those are the perfect elements of the best wardrobe," Butler explained. "All you need are elevated basics, including cotton/Modal T-shirts, and these whimsical vintage pieces—such as vintage high-waisted Levi's, Indian block-printed dresses and skirts—and you're good to go."
During the holidays, between its first and second collections, Dame will release a limited-edition Cozy Box, which includes a loungewear set with a sweatshirt and pants that can be monogrammed by the company. The women designed the pieces to be comfortable enough for opening holiday gifts or running out to grab a bite to eat.
Price points for the first collection range from just under $60 for dead-stock-sourced cotton/Modal tank tops to V-neck and muscle T-shirts for $250. While they might eventually launch pop-up shops, the women intend to continue their direct-to-consumer model in an effort to maintain affordability and a sustainable supply chain.
"More and more, direct-to-consumer is what you're going to see," Levin said. "It's essentially wholesale, and we're able to keep the price down. To be able to keep an approachable price point, I feel it will be what we see more of these days."
The direct-to-consumer model also aligns with Dame's mission to help women easily find fashionable, ecologically responsible clothing. Providing this ease in shopping allows women to enjoy their lives while looking stylish.
"We're offering busy women a one-stop shop for the best wardrobe, and that is invaluable. Continue to build your life but not sacrifice your wardrobe," Butler said. "We're helping to build your wardrobe so you can build your life."