EVENTS
Costume Designer Alexandra Byrne Honored During FIDM Museum Reception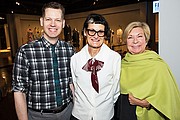 Ahead of its "Art of Motion Picture Costume Design" exhibition next February, the FIDM Museum at the Fashion Institute of Design & Merchandising honored costume designer Alexandra Byrne for her work on the film "Mary Queen of Scots," to be released Dec. 7.
The event at the downtown L.A. campus began with a tour of the museum's History Gallery. A small group of guests was led by FIDM Museum curator Kevin Jones through "Majesty and Mystery: Saving a Napoleonic Court Gown," an exhibition showcasing fashions worn during the reign and fall of Napoleon Bonaparte.
The masterpiece of the area was a court gown rumored to have been worn by the emperor's wife, Marie-Joseph-Rose de Tascher de la Pagerie de Beauharnais, whom Napoleon referred to as "Josephine."
The exhibition is being held at the same time as the museum's Operation 1804, a fund-raising effort to purchase the pieces from their unnamed owner, who provided the court gown on loan. While the exhibition closes Dec. 22, the fund-raising effort continues until December 2020.
Next, guests viewed archival pieces from the museum, which were selected to complement the Elizabethan period reflected in "Mary Queen of Scots" as a tribute to Byrne's work.
Jones revealed an exquisite embroidered petticoat, circa 1575, which is believed to be of Portuguese origin. The piece, created in linen and silk satin with a wool-felt inner lining, connects the FIDM Museum to another Los Angeles cultural destination.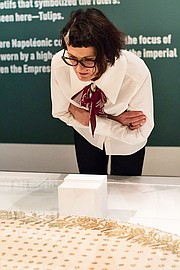 "The Los Angeles County Museum of Art has the only other known one like this and they match," Jones explained. "Our embroidery is a little more complex, but they are absolutely from the same workshop. This is the first time Elizabethan embroideries have been matched that way."
Describing her work to guests, Byrne mentioned the challenges as a 21st-century costume-design professional who is creating pieces that relay a glimpse into a 16th-century royal family and its subjects.
"It's a short amount of time and a very tight project. You're both trying to be artistic and practical," she said. "We had to make everything."
As a designer whose Oscar win was the result of her work on 2007's "Elizabeth: The Golden Age," Byrne was a natural fit for costuming "Mary Queen of Scots."
"I knew the period so I was able to have a strong and instinctive response," she said.
Another challenge for Byrne was capturing the story of these two powerful female rulers, who were also family, as they navigated the difficult course of leadership among men.
"On a more artistic front, it is the story about two women, two queens maintaining power in a world of predatory men," she said. "I wanted the men to be sexy, and that is quite difficult in the Elizabethan period. For the two queens, I didn't want it to be about another queen in another frock."
Taking inspiration from a rigger who worked with ropes and booms on another production project, Byrne examined the way in which the man's utility belt affected his body movement and the silhouette it created.
She matched the silhouette by including patches and pockets in her designs, a decision that proved wise and was affirmed by a historical discovery the designer made after she had already ventured deep into costume production.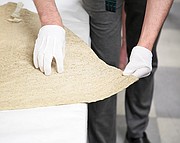 "Interestingly, we were quite well into making the clothes when I found a report of a trial from the 16th century," Byrne explained. "A man was charged with having his britches overstuffed. Men used their britches to store their worldly possessions if they didn't have a home. In a way, the britches were the pockets."
Outfitting a cast that included approximately 800 actors when filming crowd scenes in rainy weather on a muddy set meant that Byrne needed to create pieces using resilient materials, which led her to incorporate a lot of denim into the film's costuming.
The versatile characteristics of how denim becomes more attractive through use and age also appealed to the designer. Working with several factories in Europe, including Hero—a former denim factory that now focuses on military wear—in Poland and denim-maker Kanti, which is based in Leicester, England, Byrne challenged these partners to create designs that were beyond their typical offerings. Once the pieces were created, she and her team had to distress and age them.
"Denim is a fabric that gets better with wear and dirt. It's a fabric that we know molds to our bodies, which is how I am sure their clothes were because they didn't have dry cleaners," she said. "They sweated into the clothes and they dried out. It would have been similar to a second skin."
One of the most important scenes Byrne was forced to approach cautiously was a significant meeting of the two queens. The designer knew that the moment would be visually striking, but the costuming couldn't distract from the appearance of the women.
"The heart of the film is this scene where the two queens meet. I didn't want the clothes to be distracting in any way during that sequence," she said. "You have the whole culmination of two red-headed queens, which is a big piece of the visual composition."
Costumes from "Mary Queen of Scots" will be on display during the FIDM Museum's "Art of Motion Picture Costume Design" exhibition, which runs from Feb. 5 to April 12, 2019.