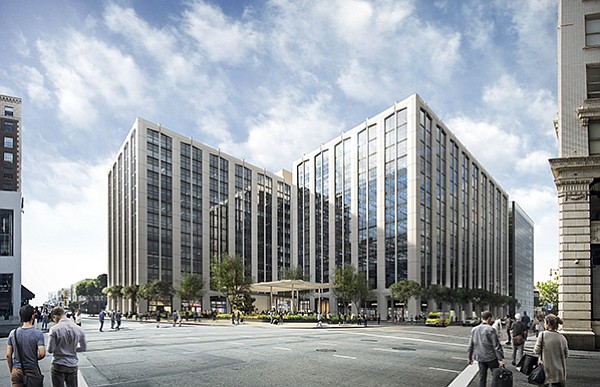 BROOKFIELD RENOVATES CMC
$170-Million Renovation of CMC in DTLA Begins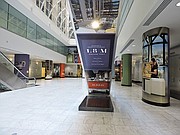 Brookfield Properties, the property-management firm that took a controlling interest in the California Market Center—or CMC—in 2017, has announced that it will begin transforming the site into a mixed-use creative space and fashion-industry campus through a $170-million overhaul project.
Opened in the 1960s, the historic building located in downtown Los Angeles will experience a two-phase renovation that should be completed in 2020 and will transform the 1.85-million-square-foot space into a "...21st-century mixed-use creative office and fashion industry campus in the heart of DTLA," according to Brookfield Properties.
"With Brookfield's $170-million investment in this storied business center, DTLA will take another giant step forward in its evolution as a forward-thinking, 24/7 live-work business district. With an inviting, amenity-rich and open streetscape, sweeping public space, year-round activations, and unmatched floorplates, the new CMC will draw more creative firms to the heart of DTLA while elevating the region's existing fashion industry," Bert Dezzutti, western region executive vice president for Brookfield Office Properties said in a press release. Brookfield Properties also owns the FIGat7th and Bank of America Plaza sites.
The current CMC space comprises three interconnected 13-story buildings and a two-story former bank. This entire area will be remodeled by San Francisco-based architecture-and-design firm Gensler, whose local Los Angeles-based projects have included the Banc of California Stadium and CBRE LA North, Masonic Temple in addition to social-media giant Facebook's Menlo Park, Calif., headquarters.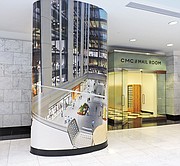 Upon completion, the updated CMC site will include energy-efficient, floor-to-ceiling glass windows; sun-lit skybridges that will connect every floor between the three buildings; a 5,000-square-foot rooftop tenant-amenity space; fashion-focused building amenities; and a ground-floor public area along Main and East 9th Streets that will boast opportunities to include retailers. In addition to these new features, the effort will result in the removal of the Pad Building, which will yield 13,700 square feet of privately owned public space.
"The significant changes underway across the entire block–including the removal of the 'Pad Building,' the creation of prominent, public open space and the introduction of an unrivaled tenant roof deck–will not only strengthen CMC as a fashion hub, but it will draw all types of forward-thinking companies from across the city while also bringing in workers, residents and visitors from the surrounding community," Rob Jernigan, co-regional managing principal at Gensler, said in a statement. "Brookfield's $170-million investment is poised to be a game-changing catalyst for this corner of DTLA."
Along with polished concrete floors, open-concept space, modern lighting and state-of-the-art technology, the site's fashion tenants can expect to be concentrated within Building C—the first building to be renovated.