MANUFACTURING
Cynthia Vincent Launches Baacal to Expand Her Reach in Apparel Manufacturing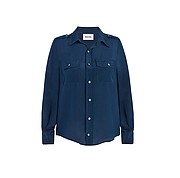 Los Angeles designer Cynthia Vincent has returned to designing clothing, yet this time she has accepted a mission that blends two buzz-worthy initiatives: sustainability and large-size apparel.
With her new label Baacal, the founder of St Vincent, Vince and Twelfth Street by Cynthia Vincent noticed a lot of expanded sizing from fast-fashion brands, but she didn't see options for women who need something larger than a size 8.
Citing her own experience trying to find contemporary styles that offered a clean, tailored look, Vincent encountered only misses cuts in the quality she wanted. On-trend pieces advertised online as delivering the modern styles she sought would arrive only to disappoint the designer's manufacturing standards.
"I started to research this market and realized there was this huge blank space," she said. "I, as a consumer, was being challenged just to find great clothes."
Vincent launched her CV Creative Agency in 2015, which led her to consult for brands such as Three Dots and O'Neill. With Baacal, the designer is bringing a fresh approach to clothing for women sized 10 through 22. Using silks, wool and Pima cotton, Vincent is launching the first collection by applying the techniques that helped her create her previous collections, which appealed to a certain consumer who fit the old standard of sizing.
"As a CFDA [Council of Fashion Designers Association] member, someone with a lot of experience and knowledge in the industry, I am basing it on certain principles that I know and applying it to this sector," Vincent explained. "I am expertly fitting, taking my time and looking at this line to make sure it's right. There are several pieces that I'm not launching until they are perfect."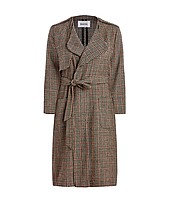 Not only is Vincent committed to the sizing needs of many female customers, but she is also committed to sustainable sourcing by using dead-stock and upcycled-fabric waste to manufacture her goods. The designer's goal is to maintain 80 percent sustainability—from sourcing to shipping.
"Because I am using upcycled and vintage stock, it requires me to design in a different way," she said. "By nature, the pieces are small runs. They are unique, and I am providing something that is not out there past a size 8."
While most of the collection is made in Los Angeles, 1 percent is manufactured in China. Vincent's goal is to manufacture the majority of her collections in Los Angeles, but the nature of creating a sustainable line with upcycled materials yields different issues. "The process of designing and merchandising is different," she said. "It's almost dictated by what I source."
With sourcing taking place in Los Angeles, New York and China, Vincent realized that manufacturing goods where the fabric is sourced is sometimes the best option. To remain efficient, she is considering sourcing fabric from other regions with most of her manufacturing in Los Angeles.
"I have a strong commitment to keep a good portion of it in L.A. I've started working with some great people. There are still some small factories that are doing better goods," Vincent said. "I really enjoy getting back out in the field again, meeting people, knowing who is making the clothes, seeing where they work and seeing who has fair-labor practices."
The Baacal collection, which retails from $85 to $795, includes pants, blouses, blazers, jackets, T-shirts and jeans. Outerwear includes a '90s-style elongated, double-breasted wool car coat, available in solids and two different plaids. A soft duster trench design was made in an array of different wools including an Italian black wool, bouclé plaid and lightweight heather gray. Using silks to create her blouses, Vincent added a bit of shimmer by including one design in a metallic hue. Shirts and a shirtdress are all made using 100 percent Pima cotton.
"Each of the styles is pretty consistent as far as fabrication, so the fit can also be consistent," she said. "Fabric plays such a big part of fit."
While Baacal is going to rely mostly on e-commerce, Vincent looks forward to unveiling her collection at the Los Angeles–based Amastoria on Melrose Avenue.
"The atmosphere of my shop is a serene space that offers intimacy, and I think that experience is missing for women who wear curvy sizes. It's the right timing for that," Amastoria's owner, Claudia Bruce, said. "Cynthia is a veteran and I am excited about her affinity for details and the way she treats the fabric."
Eventually, Vincent would like to embark upon retail partnerships and is open to creating pieces in smaller sizes once she reaches her target consumer with this collection. Citing the need for designers to recognize their responsibility to think about how they create clothes, Vincent poses a challenge to her peers.
"It's important to be modern and mindful of what you're creating—will it speak to sustainability?" she asked. "It does take more planning and more effort. It is more work."
Currently, Baacal is available online at www.baacal.com.