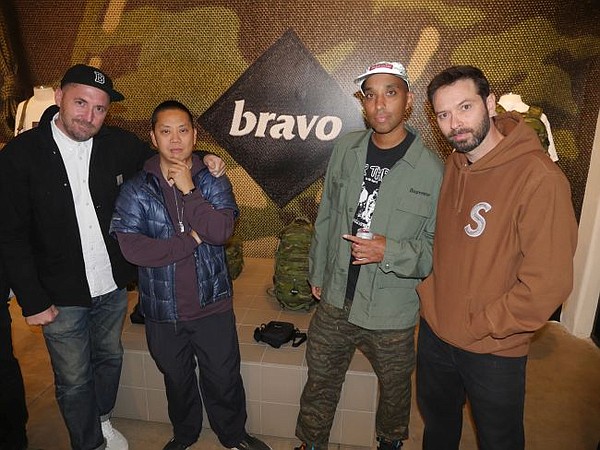 Commonwealth Bags Bravo
Streetwear-and-fashion store Commonwealth is coming up on the first anniversary of its location at the edge of downtown Los Angeles' Arts District. It also runs stores in Washington, D.C., Virginia Beach, Va., and three stores in the Philippine capital Manila.
Commonwealth's Los Angeles neighborhood still looks rough at the edges. But it doesn't seem to bother the people who drop by the store. On Saturday, Commonwealth hosted a party for Bravo accessories brand. One of Bravo's chiefs, Rian Pozzebon, also works as the director of global footwear designs for influential footwear-and-apparel giant Vans.
"We needed something more from a bag," Pozzebon said of one reason to start Bravo with friends Berto Liechty, a designer obsessed with skateboarding and military camouflage and Atiba Jefferson, a skateboarder and photographer.
To do something new with accessories, Pozzebon and company designed extra pockets in bags. Some of those pockets were well hidden so pickpockets won't have easy access to them. Other pockets are intended to give wearers easy access to passports when going through airport security. Bravo's goods displayed at Commonwealth featured camouflage designs.
RELATED STORIES