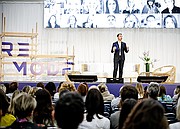 Many sustainable-fashion experts discuss ethics, manufacturing innovations and research, but outlining how to navigate the economic shift toward greener fashion is often left out of the discussion.
During its inaugural Nov. 13–14 event, ReMode's organizers included panel discussions for industry professionals to "ReMarket" and "ReInvest" in ways that align with the mission of "ReThinking" and "ReMaking."
For some attendees, this first ReMode, held at the Los Angeles Convention Center, was laying the groundwork to become the type of sustainability conference the industry needed.
"Everyone was willing to do the concept phase. Now we're shifting toward doing it in a way that is real," said Rachel Arthur, chief innovative officer at the consulting firm The Current. "Only through a multidisciplinary approach will real change happen. This conference has achieved that. It has quite a long way to make an actionable impact, but it's a good starting place."
To guide designers who want to enter this new, uncharted segment of the fashion industry, ReMode hosted a discussion centered on "The Role of VCs in Growing Early-Stage Fashion Brands."
Moderated by Joshua Goldberg, director of investment banking at Threadstone Advisors, the panel included Assembled Brands founder and Chief Executive Officer Adam Pritzker; Gary Wassner, chief executive and principal of Hilldun Corporation and chairman of Interluxe; and Lawrence Lenihan, co-founder and chief executive of Resonance, who identified a major hurdle for emerging brands.
"A fashion brand is not a technology company. The entire infrastructure for this industry has to change," Lenihan said. "It would be great to have everything handcrafted, but in the end you're competing against Amazon and Zara."
According to Lenihan, designers are tasked with creating designs, not manufacturing goods for a consumer market. Through partnering with a company that can provide both capital and operating solutions, emerging brands can function in a competitive startup culture within the creative world of fashion and avoid losing the identity for which they are known.
"Venture is probably the wrong funding source for these types of brands. The analysis they do is relevant," Pritzker said. "The problem is, if you're successful you need to make more stuff. More stuff costs more money, and, if you keep doing this, eventually you will not own any of your own company."
During this shift toward a more ecologically sound fashion industry, consumers from Generation Z are making their voices heard by demanding an authentic sustainable message from the brands they buy. As emerging brands navigate these demands, many are relying on consumer faith in their sustainable-fashion message. If this branding is diluted by financial partners, the original mission of the designer is lost.
"What young brands need more than anything is the relationship and support to help build an infrastructure, determine strategy," Wassner said. "Young brands can't afford consultants to tell them what their brand is about and their DNA. They have to create it themselves, so they have to build that support structure around them."
Launching a design house, cultivating a brand and maintaining control over their established companies is an extraordinary task for designers. Rather than partnering with a venture-capital firm, which could potentially derail a designer's original mission, he or she should consider all options, including reliable, trusted resources for brand investment.
"The bank and factor solutions are closer to the right answer," Pritzker explained, noting that banks and factors are unlikely to chip away at a brand's business as it grows. They are interested in lending, not consuming the business.
Financing for online apparel businesses
With the move toward a more sustainable apparel-manufacturing industry, many brands have invested in a strong or exclusive e-commerce presence that relies on a direct-to-consumer model. During the "Challenges of Financing Direct-to-Consumer Inventories" panel, moderated by Sourcing Journal founder and President Edward Hertzman, apparel-finance experts Wassner and HSBC Bank USA's National Head of the Apparel and Retail Sector Eric Fisch revealed how direct-to-consumer brands can finance inventory without compromising shares of their businesses.
"We're very entrepreneurial. We look at startups as opportunities, not as businesses that should be feared," Wassner said. "We advise brands to diversify their distribution and not be just direct-to-consumer because there are challenges."
To gain funding, Wassner advised designers to seek out a third party that can support a loan through a high net worth.
"There are many ways to collateralize a loan if you don't have the cash or the capital on your balance sheet or a receivable," Wassner said. "Direct-to-consumer is more challenging because it's not based upon preexisting orders. It's based upon what you hope is going to come in each month, so it varies and fluctuates."
Remaining conscious of customers' shopping preferences is crucial to a brand's success, especially when designers want to remain exclusively direct-to-consumer. While e-commerce provides the convenience of clicking a button to buy on a website, Wassner sees a return to more-traditional retail experiences.
"People are reinventing bricks and mortar," he said. "The digital platform is not going away. It's a great way to shop, but we're differentiating why you go to bricks and mortar or why you buy online by looking at the products that work best in each venue."
Discussing the ways in which his firm examines new brands, Fisch said emerging designers are able to show potential financial partners they are ready for the next step in business despite the challenges of being a fresh presence in the industry.
"We are looking on a collateral basis. There are usually limited or no receivables, but we're looking at the inventory to move quickly," he said. "If last year they were able to grow at that trajectory, sell through inventory, and, on that basis, they are looking to buy more and sell more—that is our best proving ground."
In the cyclical business of fashion, prospective lenders must see evidence that for every financial low a brand is able to rebound by reaching a higher peak.
"Just like a patient in the hospital, we don't want a flatline. We want some bumps in it," Fisch said. "If they're financing inventory because they need to build it for a season, production cycle or a launch, and it's going to cycle up and down, that is something we can finance."