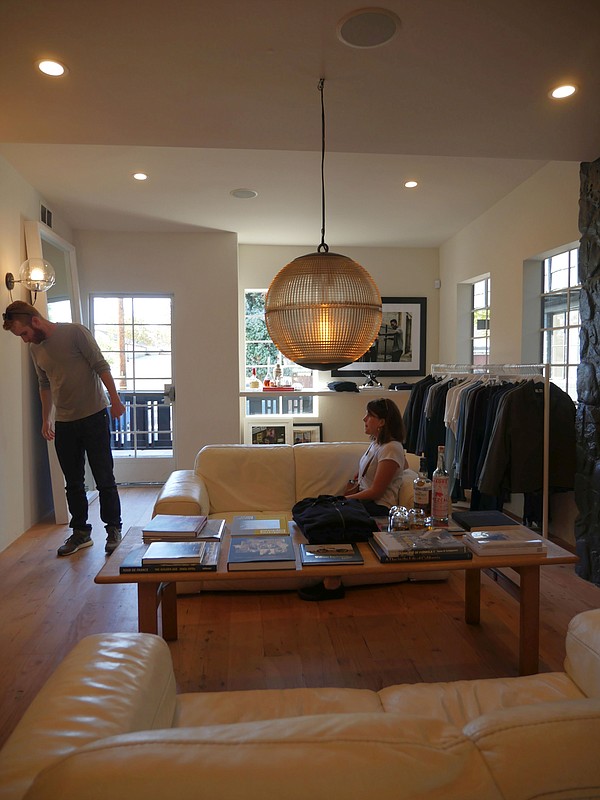 Buck Mason's New Larchmont Village Store
Just before its fifth anniversary year passed, the Los Angeles-headquartered brand Buck Mason opened its fifth store.
It's located in Los Angeles' Larchmont Village boutique district. The new boutique is big. It stretches over 3,000-square-feet. It's the largest boutique of the label's five stores, Sasha Koehn, the label's co-founder, said. The brand currently runs two shops in New York City and three in the Los Angeles area. The Larchmont boutique had a soft opening last week.
The Larchmont Village boutique, located at 107 N. Larchmont Blvd., is inspired by the label's take on the classic California lifestyle. There's a 1970 Alfa Romeo Giulia car parked inside the shop. The Larchmont boutique is the only Buck Mason shop that offers a small book shop. Books on sale are tomes that inspired Koehn and co-founder Erik Allen Ford. The mini-book shop offers a lot of books on design and photography.
Since the store is the line's largest, it offers the label's entire collection, Koehn said. It will officially open with a store party on Dec. 1. Store party is open to the public.