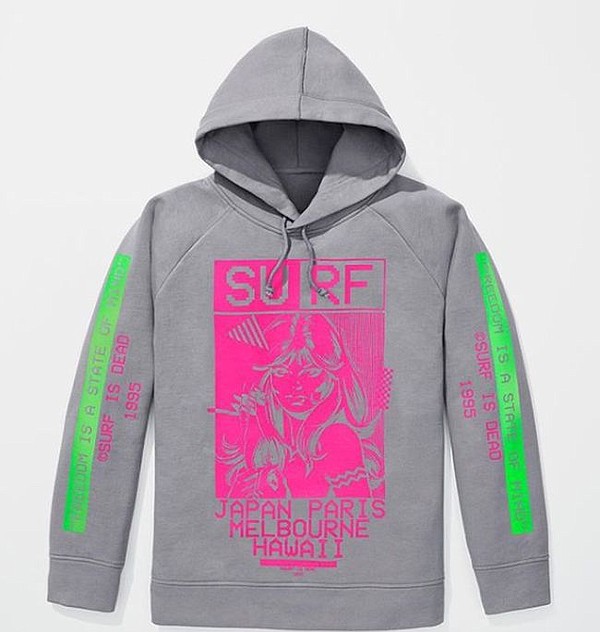 Los Angeles' Surf Is Dead In 2018 Coolest Designers on the Planet Collection
Los Angeles' Surf Is Dead label got into the fashion game to revive an experimental and rebellious spirit in surfwear.
It sounded like somebody was listening.
The Surf Is Dead label was chosen to participate in The Coolest Designers on the Planet. It's a collaborative venture between GQ magazine and the Gap brand. Annually, the glossy magazine and the ubiquitous retailer pick a number of emerging and hip designers to design capsule collections for them. The collections are sold at selected Gaps locations.
Fashion houses such as Balmain and DSquared2 were chosen to participate in the 2018 Coolest Designer on the Planet. Also among the class of 2018, Surf Is Dead.
Instead of capsule collections, this year participating brands designed hoodies. Almost all the hoodies feature a clean, minimalist look. Surf Is Dead stayed true to its maverick roots, said brand co-founder Chris Josol.
The Surf Is Dead hoodie features a large, neon colored graphic of comic book villain-type woman. Her face is surrounded by the words Surf and Japan, Paris, Melbourne and Hawaii. The name of Gap appears on the side of the garment's hood. On the sleeves of the hoodie, a green neon font reads 'Freedom Is A State of Mind.' The 2018 Coolest Designers on the Planet collection was released Nov. 28. It will be sold at selected Gap stores.