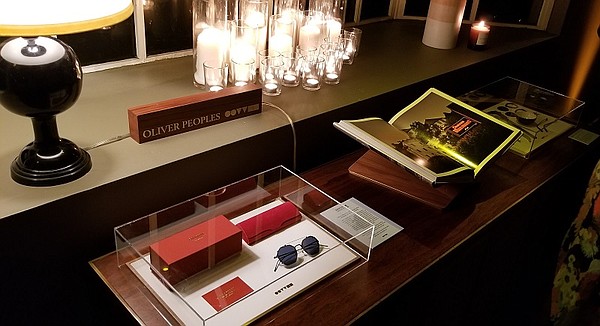 EVENTS
Oliver Peoples and Assouline Reveal Their View of California
With its new book collaboration "California as We See It," luxury-eyewear brand Oliver Peoples collaborated with finely crafted-book publisher Assouline for an intimate, insider view of the Golden State. Founded in Los Angeles in 1987, Oliver Peoples enjoys a deep connection with the city and, when designing its styles, has taken inspiration from its hometown.
"I had this idea of talking about Oliver Peoples through paying homage to California," the brand's Marketing and Creative Director, Giampiero Tagliaferri explained. "We are an L.A.-based brand and California is a big inspiration for all the things that we do—architecture, the light, the colors, nature—it all inspires us here."
The brand's appreciation for California can be found in the smallest details of its eyewear pieces, from the colors of its glass lenses to the new Palm Springs filigree, which was based on the geometric midcentury architecture of the city.
"A sunset in Malibu is inspiration for a specific lens," Tagliaferri said. "It is a link between California and Oliver Peoples."
Sharing this inspiration with Parisian bookmaker Assouline was a process that was taken beyond creating "California as We See It." In addition to collaborating on the book, Oliver Peoples created an Assouline frame of optical eyewear with a clip-on sun lens to celebrate its partnership with the publisher.
"When we do projects, we always want to do 360 degrees. We wanted to do a framing partnership with Assouline," Tagliaferri said. "It's an optical frame because of the book yields an intellectual side, but we did a clip-on that Oliver Peoples started and made cool, so it goes back to the brand's origin."
Retailing at $460, the frame was designed from an archived Oliver Peoples style and will be available through Oliver Peoples beginning in December. Clients may choose from three colors for their glass sun lenses—green, blue and yellow.
On Nov. 29, Oliver Peoples hosted a launch party at the iconic Los Angeles property Chateau Marmont, which is featured in a photo spread that appears on pages 112 and 113 of the book. Co-hosted by Lisa Eisner, guests including Oliver Peoples Chief Executive Rocco Basilico, model Shaun Ross, model and actor Levi Dylan—grandson of Bob Dylan, jewelry designer Markus Molinari, filmmaker Ivan Olita, photographers Brad Elterman and Tasya van Ree, and actors William Peltz, Stormi Henley and Lorenza Izzo moved to music by DJ Arman Nafeei, as cocktails and small plates were served.
Oliver Peoples chose to partner with Assouline, due to the bookmaker's approach to showcasing luxury, which yields an authenticity of its insider knowledge. To show its own authentic support for its home state, Oliver Peoples will make a 50-percent donation from the book's first three months of sales to the California Community Foundation's Wildfire Relief Fund.
"California as We See It" will be available in December at Oliver Peoples and Assouline locations at a retail cost of $85.