As of Thursday, October 4, 2018
Photo Gallery
Directives West Focuses on Major Trends for Spring/Summer 2019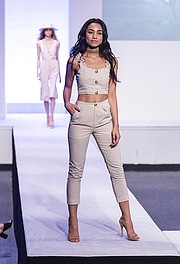 Photos by Anthony Mitchell of Anthony Mitchell Studio
California style was front and center for Spring/Summer 2019 trends, with designers from around the world looking to the Golden State for inspiration for their breezy styles this upcoming season.
That beach-centric, streetwear-infused, nature-oriented influence was seen on the runway when Directives West, the West Coast merchandising consulting division of The Doneger Group, presented a lineup of the trends that will be prominent for the Spring/Summer 2019 season.
"Everyone seems now all of a sudden to be tapping into California—our L.A. designers, our lifestyle, our culture, our music are being brought to the influencers," said Shelda Hartwell, vice president of Directives West, speaking at the Oct. 1 trend runway show, held in the Fashion Theater at the California Market Center.
She noted that denim is still going strong as are sweaters, jackets and knits. Dots and stripes, often married together in the same outfit, are vibrant for the upcoming season as are essentials, such as a boxy blazer. "Let's make sure we are updating and renewing these classifications for business," Hartwell noted.
The Spring/Summer trends were broken down for the contemporary, better/moderate, juniors and childrenswear markets. Contemporary looks were more sophisticated and polished. Juniorswear tended to be skimpier with lots of ragged-edge denim shorts and skirts and cropped tops. The better/moderate category saw more-casual clothes with a bit more coverage.
Jumpsuits and layered looks were present in all classifications as were denim skirts, flowy kimono tops, bright tropical prints and natural fibers.
Lots of ruffles were seen on dress and blouse sleeves, and hemlines covered all territories—from midi to mini and everything in between. Pant styles too had different interpretations, ranging from skinny-legged silhouettes to wide-legged cropped bottoms and high-waisted treatments.
Striped sweaters were plentiful as were retro graphics taken from the '90s. Camouflage seems to never go out of style, as seen in the streetwear trends where camouflage jackets, tops and pants were served up in different color palettes.
A touch of glitz was seen in sequined bandeau tops and skinny-legged pants.