RETAIL
Juniorswear Trends for Spring/Summer 2019 Involve a Few Repeats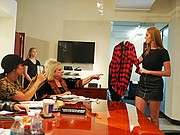 Fashion styles are always changing, but veteran juniorswear trend forecaster Barbara Fields suggested that retailers hold on to a few select looks she believes are going to have staying power through Summer 2019.
Fields, who is head of the Barbara Fields Buying Office, held a series of trend seminars Oct. 1–2 during the L.A. Majors Market at the California Market Center. Retailers attending the seminars included Zumiez, Windsor and Stage Stores, Fields said.
Fashion styles that will continue to have legs throughout the Spring/Summer '19 season include distressed jeans, tops with a knot twist and polo shirts. In April, she initially forecast that these items would be popular during her last Spring '19 trend seminar.
New juniors styles predicted to make a splash for S/S '19 include animal-skin prints for tops and jeans as well as stripes on tops. "If you don't have stripe tops, you better not leave your home. You won't be in style," she said.
In April, she forecast that track pants with side piping were going to be popular for Spring '19. Going forward, side piping will be expanded into side stripes, often bearing logos of brand names. They'll also be made out of a number of different fabrics including satin trim.
Over the past few seasons, menswear looks have been increasingly important in women's contemporary styles, and menswear will be driving some juniors styles such as utility pants.
Denim is a perennial favorite for every group of fashion consumer. For juniors, high-waisted denim is forecast to be en vogue. Denim skirts, jackets and chambray shirts also will be popular.
T-shirts are always trendy, but for Spring/Summer '19, expect graphic logo-driven T-shirts and sweatshirts to be in vogue. Color blocking will also serve as a major style element, and plaids ought to be big.
Earth and natural colors such as olive, rust and wine are forecast to be popular for bottoms and tops, and mustard will be stepping in as an important color.
Fields also gave a preview of Fall '19 styles, which include jackets with Sherpa-like trim and faux-fur jackets.
The Barbara Fields Buying Office will deepen its analysis of global fashion. Fields said she recently hired new correspondents in London, Tokyo and Sydney. These correspondents will put together analyses of what is selling at juniors retailers in those fashion capitals. They'll also blog and report on the wider fashion scene in those cities.
Fields has also remodeled and remade her company's website. Fashionfields.com was quietly introduced in September. For subscribers, it will deliver trend reports, and blogs will be made available to the wider public.