TRADE SHOWS
A Fresh Look at the L.A. Textile Show Keeps Exhibitors Optimistic and Impresses Attendees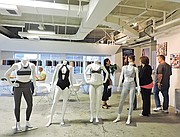 Showcasing the latest trends in textiles, the L.A. Textile show at the California Market Center in downtown Los Angeles brought together vendors and buyers to conduct business for Fall/Winter 2019/2020.
From established industry veterans to new players who were planning to launch a brand, designers from every branding stage attended the Oct. 3–5 show.
Lawyer-turned-designer Brennan Manuel moved to Los Angeles from New York two years ago with his nearly 4-year-old brand 6AM Brennan Manuel and plans to branch out and cultivate women's pieces from this established menswear line. He found fabric resources during his first time at the show, particularly from Japanese brands such as Hokkah Co. Ltd. and Uni Textile Co. Ltd.
"There are good resources here. I would tell other brands to give it a chance and be open to looking," he said. "I didn't know what to expect."
Exhibitors were taking notice of the shift in demand for textiles that fit within the new normal of luxurious yet comfortable clothing. At the booth for Farmingdale, N.Y.'s Philips-Boyne Corporation, owner David Haber said he noticed a shift in the fabrics his clientele seeks.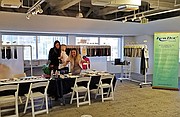 "Traditionally, they were doing custom men's shirts and now they're doing more casualwear, but they still want to have garments that are fitted to them," he said.
A show veteran, he saw the need for a change at the L.A. Textile show and was cautiously optimistic about the fresh atmosphere at this show, which he feels remains an excellent resource.
"This show has a different, hipper vibe. Now we need to get people who will come to appreciate it. A change had to be made," he said. "This is the perfect show for small manufacturers and designers. Everything is here, from trim to knits. Just look around at the variety."
While several established brands and designers were in attendance, there were also newcomers who were planning to launch or wondering how to begin.
Former New York Giants wide receiver Chris Harper is planning to launch a men's ready-to-wear line in Los Angeles. While he is still laying the groundwork for the brand, he was attending the show to find partners.
"There are a lot of the manufacturers from the brands that I am really familiar with here, which is really helpful," he said. "I am getting a lot of answers regarding the things I need."
Another first-time attendee, Jacqueline Wells of Akron, Ohio–based M/D Clothiers,is a former finance executive who decided to start a second career by launchinga women's contemporary line with her daughter. Satisfied with her show experience, which yielded meetings with B. Black & Sons and Shindo, Wells had advice for other first-timers as well as seasoned attendees.
"Stay focused and come in with a list because there is so much here," she said. "Ask a lot of questions, and don't be afraid to tell them that you don't know about something."
Senior trend and business consultant Jennifer Karuletwa is based in West Hollywood, Calif., and represents Peclers Paris North America, whose artistic installations were seen throughout the show floor. She was pleased with how organizers channeled their new show vision through creative, artistic pieces.
"The people who took over the show did a really great job of reimagining it," she said. "I love the new creativity of the installations, but if they would have incorporated mood boards, the installations would really pop."
At KenDor, a Canadian firm that specializes in sustainable manufacturing and low minimums, sales representative Danielle Harrison was pleased with the show's production team and the traffic generated at the event.
"There are a lot of promising accounts that we might be able to work with," she said. "The people organizing it are nice and extremely helpful. If we said that we needed certain things, they were on it right away, which was awesome."
Rather than showcase his company's offerings with a standard booth, Texollini President and Chief Operations Officer Amit Bracha rented an entire room near the show's entrance, which turned out to be a successful move. Bracha was happy about the traffic through the space, where he showed his Long Beach, Calif.–manufactured fabrics. "I saw a lot of traffic," he said. "Business is good and positive."
When asked how the show remains a relevant component of his annual marketing plan, he revealed that exposure to industry decision-makers is key.
"You need it for longevity," he said. "You have to have your name out there so people know about you."