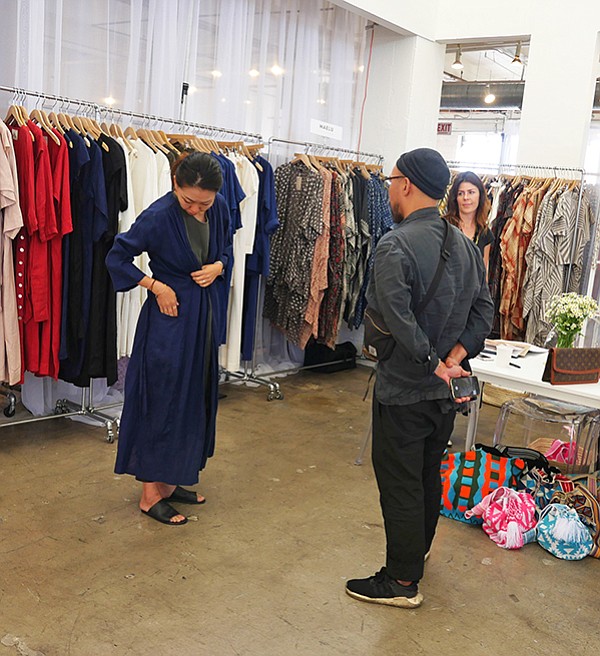 CHANGES AT L.A. MARKET
Los Angeles Market Week Takes Off With Some Big Changes
October ushers in one of the more important Los Angeles Market Weeks when showrooms in the downtown L.A. Fashion District are unveiling their Spring/Summer '19 lines but still filling in orders for late Fall and Resort.
This October, there were a few new things happening on the market-week scene. The California Market Center combined a number of stand-alone shows into Label Array, an event on the building's top floor where exhibitors from the women's, girls', swimwear, activewear, accessories, gifts, beauty and footwear categories were spread out across the large penthouse with panoramic views of L.A.
The Los Angeles Men's Market at the CMC saw a major expansion of exhibitors, and there was stronger attendance at independent shows such as Brand Assembly on the top floor of the Cooper Design Space and Designers and Agents at The New Mart.
Overall, showroom owners said retailers were placing orders closer to delivery and still hunting for that special item that shoppers just couldn't resist.
Happenings at the California Market Center
Showroom owners at the California Market Center had various opinions about the recent Los Angeles Market Week, which ranged from good to great.
"Monday was packed. People were leaving orders," said Melody Fast of the Melody Fast Sales showroom. "They were writing Immediates and Spring."
Down the hall, Ernesto Mantilla, a partner in the Betty Bottom Showroom, believed sales at the market would be on par with last year.
"The market has been interesting. There was a little bit [of traffic] here, a little bit there. The traffic isn't what it was in past years," said Mantilla, who has worked at the showroom for more than three decades. "But every buyer who has come in has stayed to make orders."
From a retail perspective, Lucia Cutrone of the Ellcie boutique in Warrington, Penn., said her business has improved enough in recent years for her to feel comfortable increasing her prices by as much as 60 percent for popular items.
Shoppers are willing to spend for brands they perceive to have good value and style. "They want something that is new and fresh," Cutrone said.
Doing well during this market was the L.A. Men's Market, which was sold out during its Oct. 9–10 run on the 10th floor of the California Market Center.
Sannia Shahid, LAMM's show director, said 140 vendors exhibited at the show compared with 120 vendors last year.
New exhibitors at the show focusing on streetwear, action sports and fashion included activewear brand Vuori, motorcycle and mixed martial arts–inspired brand Affliction Clothing and emerging brands such as Ripnrpr. Los Angeles–based brand Fact made its North American trade-show debut. It is a line designed by Damon Way, who helped start the prominent skate brand DC Shoes.
LAMM veterans such as The Hundreds, RVCA, Reyn Spooner and WVS Brgde also had booths. Veteran surf brand Katin returned to the show after a four-year break, said Dale Rhodes, the brand's vice president of sales. "I saw five new accounts. I was super stoked," he said.
Retailers shopping LAMM included East Dane, Bloomingdale's, Saks Fifth Avenue, Zumiez, Blackmarket and Zebra Club.
At the new Label Array show at the CMC, more than 70 brands exhibited offering a range of amenities.
Peri Donch, who runs the Los Angeles–made sustainable brand PERI, offered slipdresses and caftans that wholesale for $58 to $98. She took orders from retailers who previously had done business with her at the Select show, one of the predecessors to Label Array. "I had repeat business. It was great," she said. "The foot traffic could have been better. But I made some great contacts. I'll hound them later," she joked.
Solid showing at The New Mart
Steady was the pace of buyers moving through the showrooms of the historic 12-story building.
Ben Kaczor, vice president of sales at Velvet Heart and Free Heart, said there was a good amount of traffic at his showroom on Monday and Tuesday with stores writing orders for Immediates as well as Spring deliveries of 2/20 to 4/30. "A lot of our buyers want faster delivery," he noted.
He felt traffic was up a little more than last year's Spring/Summer '18 market, and there was new business to be made. He opened up a number of new doors at retail outposts in Southern California, Utah, New Mexico and Arizona.
What was different this year was that he saw more retailers using their credit cards to guarantee their orders instead of using factors or other financing.
At the Jackie B Showroom on the 10th floor, Jackie Bartolo also was opening up new stores, in Colorado, Illinois and New Mexico.
Some of them were buying the new lines she recently added to the showroom. Those lines included Q&A and A.E. Ly, both based in Los Angeles, and A.B.S., a label by Los Angeles designer Allen Schwartz who licensed it to a Canadian company.
"The market has been consistent," Bartolo said. "Some of the retailers are a little cautious. They are just being very careful. They don't want to buy the same thing. If they have polka-dot dresses, why do they need another polka-dot dress? But the accounts I wrote were healthy orders."
Retailers were gravitating toward maxi dresses and minidresses and anything with a print. Animal prints were strong for Spring/Summer '19 as were stripes and polka dots. Dresses and tops with lace and embroidery were also selling well as retailers searched for novelty items.
At the Designers and Agents show, which is an open exhibition area on the building's third floor, there was a breezy, fun feeling to the event.
One of the vendors near the show's entryway was Luz Solarez, the director of sales of Love Binetti, a contemporary line of women's clothing and cloth handbags with a definite bohemian, artisanal feel. Wholesale prices range from $220 to $400.
This is the only West Coast show the New York label participates in. "I always make the dollars here," Solarez said.
She said by the time buyers reach Designers and Agents, they are pretty aware of how much of a budget they have left to spend and what they want to purchase. "Retailers are looking for things that are different, that don't look like anything else other people are carrying," she said.
At her booth was Trish Robinson, the vice president of fashion for retailer Sundance, who was carefully eying a pair of embroidered pants that had a cinched waist and billowy pant legs. "We are looking for new and different bottoms," she said. "We are always looking for romantic tops and new treatments with lace and ways to extend summer into fall with summer fabrics that have fall colors."
Also, maxi dresses that had a bohemian feel to be worn with boots was another favorite.
This was the first time that Felicia, a 2-year-old Miami clothing company, was exhibiting at the show. Its goal was to find new business on the West Coast. The Miami-based label has a collection of prewashed linen dresses, tops, jumpsuits and shorts manufactured in Vietnam wholesaling for $52 to $90. "This has been a great show. We are opening more stores here," said Tina Villa, the company's marketing and sales manager.
The label's founder, Ani Ponce de Leon, said she will be returning to the show. "We think it is a well curated show," she said. "We like it."
Cruising the Cooper Design Space
The showroom owners at the Cooper Design Space had a positive feel for this October's market week. Sylvana Lankshear from the Focus Showroom estimated there was more traffic than last year. The showroom was packed with appointments. "We'll probably be seeing between 150 and 200 appointments," she said. "That's a conservative estimate."
Business has picked up for most of her retail clients. "There's demand for more product," she said, noting that made her more comfortable to recently take on new lines.
Retailers perusing the showrooms included independent boutiques M.Fredric and Liv, which has two separate boutiques in the Northern California towns of Ukiah and Santa Rosa.
Olivia Walton, Liv's founder, said she saw an ignored market for dresses. "Everything went to rompers. They're cute, but they replaced the dress," she said. "But we have all of these girls who still want dresses."
The Brand Assembly trade show expanded its exhibition space on the 11th floor of the Cooper. There were 175 vendors exhibiting compared with 150 vendors last year, said Hilary France, the trade show's co-founder.
New vendors exhibiting included L*Space, jeans brand Lee, Alpha Industries and Hedley & Bennett.
Los Angeles–headquartered Hedley & Bennett helped produce the market's Culinary Corner, which served a free vegetarian/vegan menu from the Los Angeles restaurant Yarrow Café.
Just like every other trade show, there was a range of opinion on the pace of traffic. Ben De Luca of the Brooklyn Hat Co. estimated the show's traffic was double last year's. His company did not plan for so much business. Coming into the show, the headwear brand kept inventory lean, perhaps too lean. "We're going to have to do some scrambling to get more inventory," he said.
Shopping at the Gerry Building
At the Gerry Building, buyers were placing orders for Immediates through Spring 2019 with a focus on unique styles.
At the Karen Kearns showroom, sales representative Kathie Muni saw local retail partners from California and out-of-town buyers traveling from Oregon, Washington, North Dakota and Colorado. While these buyers were placing orders for Immediates out to Spring, retailers wanted to find different pieces. "This is more of a positive market," Muni said. "Everyone was really upbeat, enjoyed what they saw."
Muni said that most of her traffic was from walk-in visitors. "We had more walk-ins than appointments because people don't want to commit or know where they're going to be," she said.
With only one day to shop at the market, Claudette Myers of the Desert Bloom Boutique in Tucson, Ariz., was following the walk-in buying strategy as she shopped for artful women's clothing to sell in her 16-year-old shop.
After starting her day at 6 a.m., she was at the Gerry Building by mid-afternoon and ready to visit a few showrooms, place orders and head home. "I make an appointment for the first stop of the day," she said. "I come to see lines that I already know. If I pick up some good ones that I don't know, it's wonderful, and that is what we hope for."
At her eponymous showroom, Miriana Ojeda was happy to report that every retailer who reserved time on the calendar showed up for his or her appointment. "We had appointments with serious buyers from higher-end specialty retailers that we already know," she said. "They all came in for their appointments and placed orders for some Immediates and a lot of Spring.