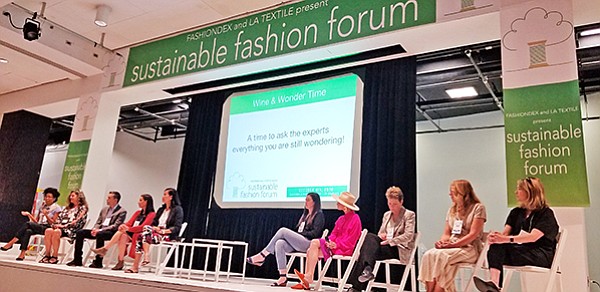 SUSTAINABLE FASHION FORUM
Sustainable Fashion Forum at L.A. Textile Brings Industry Leaders Into the Eco Discussion
Sustainability is the buzzword swirling around the fashion and textile industries these days.
To help brands navigate through this world of environmentally sound apparel manufacturing, a Sustainable Fashion Forum was organized on Oct. 4 by Fashiondex founder Andrea Kennedy, who is also a professor at LIM College in New York City, in partnership with the L.A. Textile show and the California Market Center.
The forum is important to people such as Raheela Maniar, who has a womenswear brand called Trilinia. "You hear about sustainability a lot, and you want to have ethical production," she said. "It's a new space, and we're building a community."
Held at the CMC's Fashion Theater, the second installment of the event that launched at LIM College in May was a full-day conference where attendees learned more about sustainable fashion from apparel-industry business leaders. Representatives from major fashion brands revealed how their companies are reducing negative environmental impact.
Throughout the day, the forum's 319 attendees heard from Reformation's Vice President of Operations and Sustainability Carrie Freiman and Director of Sustainability Kathleen Talbot; Mike Farid, the founder and chief executive officer of Nature USA; Patagonia's Senior Manager of Product Responsibility Elissa Foster and Director of Material Development Sarah Hayes; and Liza Schillo, manager of global product sustainability at Levi Strauss & Co.
Additional speakers from organizations focused on bringing greater attention to sustainability included Cindy Lin, founder of Hove Social Good Intelligence; Kestrel Jenkins,host and producer of the Conscious Chatter podcast; Scott Miller, director of business development at the Sustainable Apparel Coalition; Teresa Baxter, co-founder of Fair Trade Long Beach; and Deanna Clark-Esposito, founder of the Clark-Esposito Law Firm.
Attending the conference was important to Clark-Esposito because she recognizes the confusion surrounding the shift toward sustainability. "As consumers, the audience is familiar with issues in sustainability, but from a business perspective they don't know the questions they should ask to advance a sustainable agenda in a way that is meaningful for the company," she said. "I want to support sustainable brands, which is why it was important for me to speak from the business side."
Echoing this sentiment, Jennifer Gilbert, chief marketing officer of I:CO, explained that designers must recognize that attendance at these events is an integral component of their businesses.
"It's not just a side note," she said. "In the fashion-design schools, I wish they had more sustainable-fashion curriculum. This isn't an afterthought or an extra—it's critical to be able to have a circular economy."
Gilbert urged her peers to take notice of the growth within the sustainability sector. "If you don't start educating yourselves, you will be left behind," she said. "If you turn your head the other way, you're harming the industry because you're not helping it move forward."
Putting herself in the position of manufacturers and designers, Clark-Esposito wanted brands to recognize the ways in which sustainable production methods could yield new business opportunities.
"People in the industry want to know that there is an emerging sales channel, because at the end of the day it's about what is on the bottom line," she explained. "Recognizing that sustainability could be an advancing sales channel is important."
The conference also offered more-intimate and collaborative opportunities to learn about sustainability in apparel manufacturing. A panel covering innovations in circular textiles was led by Fabscrap founder Jessica Schrieber and included commentary from Ciclo Textiles and Intrinsic Textiles Group co-founder Andrea Ferris; Dee Dee Harris, national sales director for Buhler Quality Yarns Corp.; and Eco-Life Yarns by R. Belda agent Kathy Constantino.
Another important point emphasized during the event was the need for fashion to become more collaborative as an industry. While certain brands continue to keep all of their efforts under lock and key, there is room for manufacturers to work together toward a greener, more socially conscientious industry without threatening their own businesses by giving away too much.
While discussing her company's campaign toward greater environmental and social responsibility, Schillo discussed the manufacturer's Partnership for Cleaner Textiles initiative. Noting that approximately 80 percent of the company's production is performed with partners who work with other apparel companies that are dedicated to sustainability, Schillo emphasized the need for an industrywide effort to change the supply chain.
"The next step for us is putting pen to paper and figuring out how to engage our suppliers in this conversation. There is going to be a piece about collaborating with our industry peers," she explained. "That is great news for us because we don't have to do it alone."
Kennedy ended the event with a panel of most of the day's speakers. During this final "Ask the Experts" segment, attendees were given an opportunity to find answers to manage a sustainable fashion brand.
"As a brand, I wouldn't ask your consumers to buy less," Kennedy said during her closing remarks. "I wouldn't ask them to curate their wardrobe into six easy pieces. We need to change what we do so they can continue to buy. We just have to design like our world depends on it."