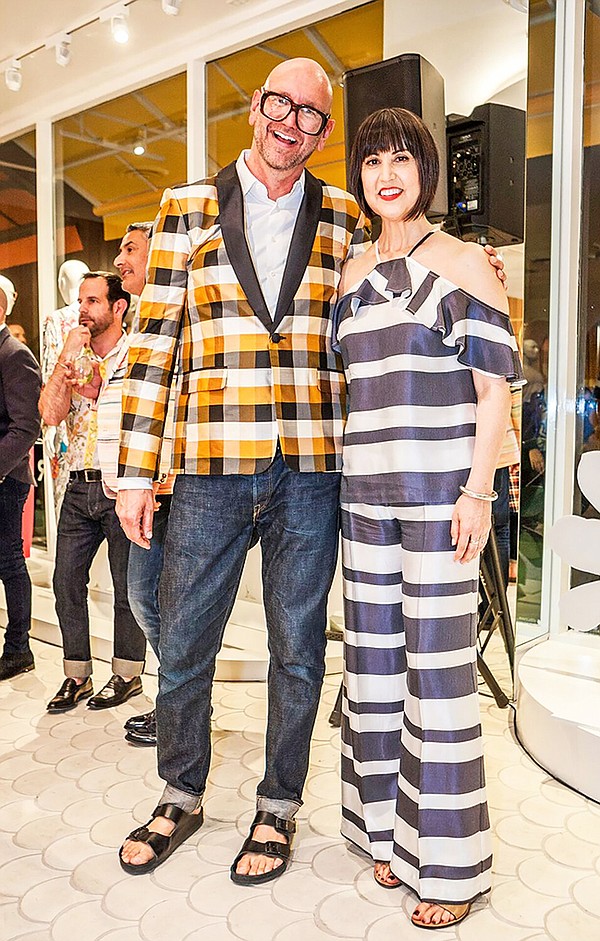 REMEMBERING JONATHAN SKOW
Jonathan Skow, the Designer Behind Mr. Turk and Husband of Trina Turk, Dies Following Accident
Jonathan Skow, who started out as a photographer and stylist and branched out to designing the menswear line Mr. Turk, passed away on Oct. 12 at Cedars-Sinai Medical Center in Los Angeles. He was 55.
Skow, whose wife is well-known Los Angeles designer Trina Turk, died from complications from a body surfing accident on Labor Day in Hawaii, which paralyzed him from the neck down, according to a statement from the family.
Trina Turk started her self-named line in 1995, with bright colors that epitomized the casual but sophisticated area around of Palm Springs, Calif., where she and Skow opened the first Trina Turk store. Over the years, their stores expanded across the country to Houston, Dallas, New York, Atlanta, Los Angeles and, most recently, to Honolulu.
By 2002, the couple had launched Mr. Turk, for the man who wasn't afraid to wear bold colors.
Just this year, Mr. Turk teamed up with home wear designer Jonathan Adler to develop a capsule menswear swim collection.
Los Angeles swimwear designer Rod Beattie first met Skow when Skow was doing the photography campaign for the La Blanca by Rod Beattie swimwear collection produced by Apparel Ventures many years ago.
"He was just a force of energy and creativity," Beattie said. "He was such a passionate person about anything he took on. ...He was larger than life, literally. He was 6 foot 5. He was an individual with his own style, perspective and design."
"When that light gets blown out," Beattie added, "it is very sad."
Skow met his wife of 33 years at the University of Washington where the two attended the same textile-science class. He was a fashion stylist for 12 years, then transitioned to freelance fashion and advertising photography. In 2008, he began to devote all of his time to their apparel company.
The couple helped put Palm Springs back on the trendy map with the opening of their store there in 2002 and their focus on the desert community. "He and Trina changed the landscape of Palm Springs," said Sally Daliege, the managing director at Emerging Blue, a fashion, home and beauty recruiting company. "They made desert living cool."
The creative man known for his oversized eyeglasses and love of color grew up in the state of Washington, born to Harold and Barbara Skow in Seattle. His childhood was spent in Washington in Horizon View and on Lake Sammamish.
Besides his wife, Trina, Skow is survived by his mother, Barbara, his brother, Nathan, and was preceded in death by his father, Harold.
A celebration of life will take place at a future date. In lieu of flowers, memorial contributions can be made to LA Conservancy (laconservancy.org); Palm Springs Modern Committee, (psmodcom.org); Palm Springs Art Museum Architecture and Design Center (psmuseum.org); LACMA Decorative Arts and Design Acquisition Committee (DA2) (lacma.org/DA2); the Trident Swim Foundation (tridentswimfoundation.org); or ActBlue candidates (secure.actblue.com).