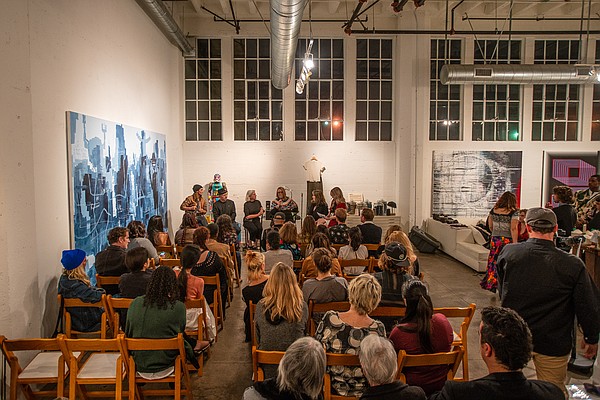 EVENTS
Sustainable Fashion Leaders Meet in DTLA for the Pollima Material Revolution
During Los Angeles Fashion Week, sustainable-fashion consultant group Pollima brought together brands, designers, investors and manufacturers at downtown's Ren Gallery. The Oct. 13 event was organized by Pollima's founder Ardilla Deneys, as a celebration of sustainable-apparel manufacturing with a focus on ecologically sound materials that are made from waste or biological science, including textiles created from orange peels, mycelium, coconuts and kombucha.
"I started my company to help usher in the use of the most sustainable materials as quickly as possible," Deneys said. "By coming together to celebrate innovation with waste materials and biology, we are bringing the conversation ever closer to the mainstream."
Attendees were able to admire creations by green-clothing designers and textile manufacturers such as Deborah Lindquist, Orange Fiber, Equites and Vancouver-based designer Roya Aghighi, who is working with scientists at the University of British Columbia to develop a biodegradable, living textile that uses photosynthesis to cleanse the air. To promote apparel-recycling initiatives, I:CO and Beyond The Label were on hand to collect unwanted clothing, and Kassia+Surf accepted wet suits to be recycled.
For the exhibits displayed throughout the gallery, Pollima used recycled cannabis paper and plinths produced from pressed agricultural waste, which were manufactured by Ecor, the eco-friendly building-materials company. Among the sustainably sourced bites served during the event, guests enjoyed freshly opened coconuts, Revive Kombucha and Spira spiralina samples.

During a designers' panel, Kassia+Surf's Kassia Meador discussed the need for more sustainable materials to support the active-sports-apparel segment, such as those used to manufacture wet suits, which are made using neoprene. Using reclaimed materials to produce pieces for her FiberGirl Designs brand, Rachael Staudt explained that the industry can produce new apparel by working with reclaimed and recycled materials.
Through hosting Pollima Material Revolution events in fashion cities such as Los Angeles, Deneys wants to support consumers as they practice more more conscientious shopping habits.
"My task for consumers is to ask two questions when purchasing something: 'Where did this come from?' and 'Where is this going?'," she explained. "Trust your intuition. If you feel good about the answer, it's a good product to support. If not, please tell the brand what you are looking for instead."