As of Thursday, May 2, 2019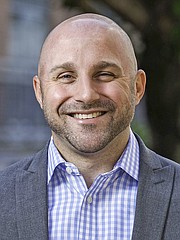 Shawmut Design and Construction has constructed retail flagships in top fashion areas including Rodeo Drive in Beverly Hills and in Manhattan.
With more work on the West Coast, the Boston-headquartered construction-management firm recently promoted Greg Skalaski to vice president of Shawmut West to oversee the company's Los Angeles and Las Vegas offices. The newly created position was developed to support increased growth in the firm's projects in the region, which have expanded since the company opened its Los Angeles office in 2013.
Previously, the company directed its West Coast retail projects from its Boston headquarters and its New York City office.
David Margolius was named to take over Skalaski's previous position as vice president of retail.
Shawmut's current West Coast projects include remodeling the H&M flagship in South Coast Plaza in Costa Mesa, Calif. Last month, Shawmut wrapped up construction of a flagship for the Pomellato jewelry brand on Beverly Hills' Rodeo Drive, and it is also working on a number of hotel projects.
One of Skalaski's goals for Shawmut West includes developing more projects for healthcare and academic clients. However, retail continues to be a thriving practice at Shawmut.
Despite headlines about how the market for bricks-and-mortar stores is becoming smaller, there continues to be opportunity for construction because top brands remodel their flagships about once every decade, Skalaski said.
"They've got to stay hot. Every five to 10 years, new trends happen. You've got to have shiny new things to continue to have people coming to the stores. You've got to think of ways to enhance the stores," he said.
More than 60 percent of Shawmut's retail projects are remodels or adaptive reuses of buildings constructed in the 1970s and 1980s. It's up to Shawmut to figure out how to seamlessly add on contemporary additions to foundations constructed decades ago.
Like fashion, store architecture goes through trends and styles. Currently en vogue are brightly lit stores as well as natural elements such as stone flooring. "Stone is a natural product," Skalaski said. "We cull the cleanest of stones. We employ the most skilled tradespeople to work on this challenging detail."
But these stones are not made in factories and often do not fit together easily. It's up to tradespeople to smooth over the flaws. "Any imperfection stands out like a sore thumb," Skalaski said. "It's like wearing a white shirt and having a spot on it."