MANUFACTURING
Face Brand Looks Into Wholesale Market Again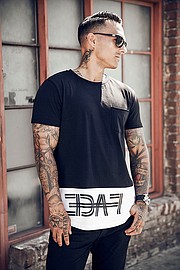 The message of the Los Angeles streetwear brand Face begs people to look deeper into themselves.
"If people face themselves and inspire themselves, they can face anything," said Gil Jay, who was born Gilbert Juarez.
Face is currently sold on the brand's direct-to-consumer channel at faceclothing­usa.com. But in August, he reintroduced the brand to the wholesale market with a 10-by-10-foot booth at the Agenda trade show in Las Vegas. It was the brand's first trade show since 2014.
Along with trying the wholesale market, the brand has a new executive. Rosibel Hurst became a partner in February. Together, they finance the independent venture. Along with designer Michael Metatron, Jay plans to eventually develop the T-shirt and caps line into a full collection, eventually offering pants, footwear and accessories.
The current line mixes streetwear with what Jay and Metatron call "science fiction" looks. "We wondered what youth would be wearing in 2045," Metatron said, noting that video gaming and e-sports are an influence. Face's marketing and sales chief, Logan Castellanos, said the brand aims in the future to exhibit at e-sports events.
Some of the line's caps are studded with spiked grommets while others have aluminum panels bearing the brand's logo, which is the word face spelled backwards. It's reminiscent of a mirror reflection, or looking at oneself in a mirror.
Women's and men's tops are inspired by a slim, European-style silhouette. Logos are also screen-printed and embroidered in non-traditional places. The Ramo hoodie features the Face logo printed on the stomach area, not the typical placement on the chest. The Stoic hoodie features the brand logo turned over on its side, appearing as a column.
However, Jay also makes room for popular T-shirt silhouettes. There is the baseball-style Henley, called the Mantle, named after baseball legend Mickey Mantle. Also offered is a standard woman's tank top, called the Magna. There also is the woman's boat-neck top called the Jesser. Wholesale price points for tops range from $24 to $35.
The brand's caps, tees and hoodies are manufactured in Gardena, Calif.