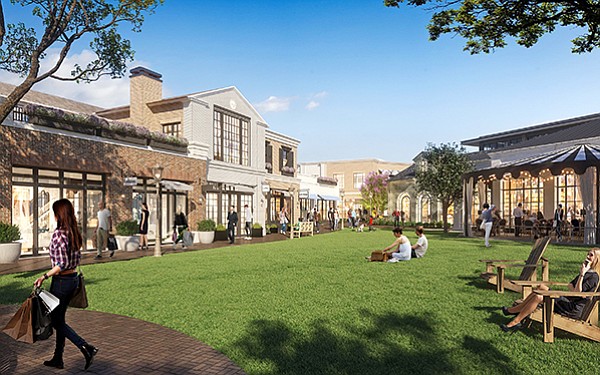 CARUSO'S RETAIL PLAN
New Los Angeles Retail District to Be Unveiled Near the Ocean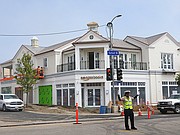 When Caruso, a well-known Los Angeles developer, unveils Palisades Village in a week, it will answer the question about whether the high-flying company behind the game-changing The Grove shopping mecca still has its magic touch.
Palisades Village, nestled in Los Angeles' exclusive Pacific Palisades neighborhood, where a large tribe of celebrities live, has been in the making since it was approved two years ago by the Los Angeles City Council and will be debuting Sept. 22.
It will be the first major retail development that Caruso has introduced in a decade. The company's last big retail project was The Americana at Brand in Glendale, Calif., which opened in 2008 with a gala event that included an appearance by then-California Gov. Arnold Schwarzenegger.
With construction currently wrapping up, Palisades Village spreads out over 125,000 square feet down Pacific Palisades' once sleepy main commercial district.
For the project, Caruso knocked down a couple blocks of buildings around the intersection of Sunset Boulevard and Swarthmore Avenue, erecting one- and two-story structures of various architectural styles designed by architecture firm Gensler.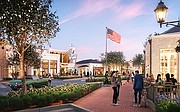 Rick Caruso, the founder of Caruso, said the new buildings were intended to seamlessly mix with the "coastal-village look" of the neighborhood and create a small-town vibe, which includes a 5,600-square-foot park, a specialty grocery store, a five-screen movie theater, a community center and a three-story underground parking structure with 560 spaces.
The retail center will be anchored by the Bay Theatre, a revamped version of the original 1940s-era theater, which has been closed for decades. It will be operatedby Cinépolis Luxury Cinemas.
On the retail side, one high-marquee tenant will be Towne by Elysewalker, a new concept store with casual styles for women. It is being developed by prominent boutique retailer Elyse Walker, who for more than 16 years has operated the influential Elyse Walker boutique across the street from the upcoming retail district.
Famous fashion stylist and designer Rachel Zoe will set up a six-month-long pop-up store where she will sell her collection. Other shops include A.L.C., Anine Bing, Paige, Cynthia Rowley, Vince, Zimmerman and activewear brand Carbon 38.
For a moderns touch to olden days, the village will feature an Amazon Books bookstore.
The debut of Palisades Village has received a range of opinions from enthusiastic to guarded.
Denise Mangimelli, co-owner of the Boca clothing boutique, anticipates the project will be a great boost to the neighborhood. Mangimelli had a Boca store in the Palisades for 24 years but moved a few miles away two years ago to Santa Monica, Calif.
This year, Mangimelli moved her store back to the Pacific Palisades, believing the project will revive the neighborhood. "It will bring more people and restaurants to the area," she said, adding that she may have to hire more salespeople.
But Lou Kamer, a Pacific Palisades resident, was a little more wary. He campaigned for and won a seat on the Pacific Palisades Community Council to have a voice in the project's development.
He gave Caruso and his company high marks for their accessibility, but he conceded there's a range of opinions on the project. "For some, it will be the mall that destroyed the quiet, small-town charm of Pacific Palisades. To others, it will be the greatest thing that ever happened," he said. "My personal hope is that it can bring up the other parts of the business district to allow them to succeed."
He also hoped that the entire neighborhood's business district would be able to embrace change and grow while retaining the small-town qualities and character that many consider key to the Palisades experience.
One particular concern of Palisades residents was traffic. Kamer said that many were worried about traffic becoming as congested as it is in the nearby Brentwood district, where Caruso resides. In that tony neighborhood, there are two popular retail complexes—the Brentwood Country Mart and Brentwood Gardens.
Caruso was one of the first in the nation to offer open-air, lifestyle malls presented as an alternative to the once-dominant enclosed regional malls. The developer mixed a parklike ambiance and unique architecture reminiscent of Disneyland's Main Street, harkening back to the 1950s, when life was more halcyon.
Due to the success of The Grove and The Americana at Brand, Caruso became a star in developer circles and known for making brash statements about shopping malls.
At the National Retail Federation's Big Show convention in 2014, he said that malls had to change or go out of business. "I've come to the conclusion that within 10 to 15 years, the typical U.S. mall, unless completely reinvented, will be seen as a historical anachronism that no longer meets the needs of the public, retailers or communities," he said.
In 2015, the NRF honored the billionaire developer with a Disruptor Award, given to people shaking up the retail industry.
Palisades Village will be unveiled at a time when few malls are opening in California. One new project is the City Center Bishop Ranch, designed by star Italian architect Renzo Piano. It is scheduled to open this fall in the Northern California town of San Ramon.
Despite the shuttering of many stores and talk of a "retail apocalypse," retail gurus Deborah Weinswig, the chief executive officer and founder of Coresight Research,and Michael J. Brown, a partner at A.T. Kearney, wrote that malls will continue to thrive.
In a May research note called "The Mall Is Not Dead," Weinswig said that big changes are on the horizon for malls, led by a shift that Caruso helped pioneer. There will be more park spaces, perhaps more play areas for children and a different retail mix.
Malls will increasingly become destination centers, Brown said. "Malls will transform to being consumer-engagement spaces or broad spaces where consumers can engage with others and with brands while they do their shopping," he said.
Caruso's lifestyle mall is a variation of this destination mall, which is continuing to reshape U.S. shopping centers, Brown noted.