NEWS
MAFI Award Will Be Presented to Designer Elie Madi at LA Fashion Week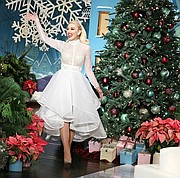 Accounting and consulting firm Moss Adams LLP will be presenting the 2018 Moss Adams Fashion Innovator Award, also known as the MAFI Award, to Los Angeles designer Elie Madi.
The award will be presented on Oct. 6 at the opening gala for LA Fashion Week at the Petersen Automotive Museum. Moss Adams will be the presenting sponsor at the event, being hosted by Shiva Safai.
"We are thrilled to honor Elie Madi's iconic designs and show-stopping red carpet fashions with this year's MAFI, which celebrates innovation," said Martin Hughes, Moss Adams' national practice leader for apparel.
Madi is a Lebanese designer based in Los Angeles whose sophisticated evening dresses have been worn by celebrities including Jennifer Lopez, Gwen Stefani, Katy Perry and Carrie Underwood.
Nominees for the MAFI Award are judged on their market impact and ability to incorporate the spirit and energy of California into their creations. The award includes $5,000 of Moss Adams consulting services.
The MAFI awards went on a one-year hiatus after working with Fashion Business Inc., but the award is back in collaboration with LA Fashion Week.

Moss Adams is a more than 100-year-old accounting firm that serves hundreds of apparel companies and has 25 locations in the West. In 2003, the company's Los Angeles office started the Moss Adams Fashion Innovator Award to recognize outstanding design talent.

The first award went to Los Angeles designer Corey Lynn Calter, and the second year it went to Daniella Clarke of Frankie B. Other recipients include Nally and Millie, Rails, AS by DF and Petro Zillia.