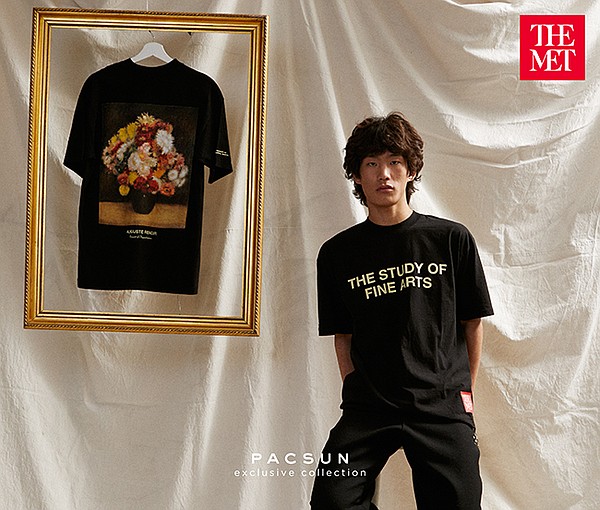 FASHION
PacSun, NYC's Met Museum Collaborate on New Collection
"Life is short and art is long," runs an old saying. Put in clothing terms, we might say that fashion is ever-changing but art is eternal, and fashion is getting an added dose of timelessness thanks to Pacific Sun's collaboration with New York's Metropolitan Museum of Art, which houses one of the world's finest assemblies of aesthetic treasures from around the world.
After a successful debut, Pacific Sun recently previewed the second collection, currently available at retail locations and at pacsun.com. June will see an expansion to the collection, including both men's and women's styles.
"PacSun has long wanted to pursue a partnership with the art world," said Richard Cox, vice president of men's design and merchandising. "The team strongly believes that the arts influence culture and that the Met, in particular, as an institution and as a beacon of inspiration, wields its own important cultural influence."
The first collection was well received and drove strong sell-throughs immediately," Cox said. "We really love how the launch came to life and are truly inspired by the photo shoot that took place inside the museum and the special-access feel of those images. Most importantly, the customer loves the launch."
The use of florals was inspired by both the Met collection and the PacSun customer, Cox said. "Florals have long been a popular pattern in our PacSun fashions, and this is no exception. Van Gogh has the most presence in the first collection because of both his name and the image recognition." Image recognition, as well as its connection to fashion via the Met Gala, is why Pacific Sun ultimately chose a museum located on the Atlantic.
"Of course there is a shared financial benefit in the relationship with the Met and PacSun," Cox explained. "As strong supporters of the arts and of culture, PacSun actively wants to support the Met organization. Equally important, PacSun wants to support artists and art. We want to expose Generation Z to the art world and expose the art world to Gen Z, too. Finally, we want to inspire and support future artists."