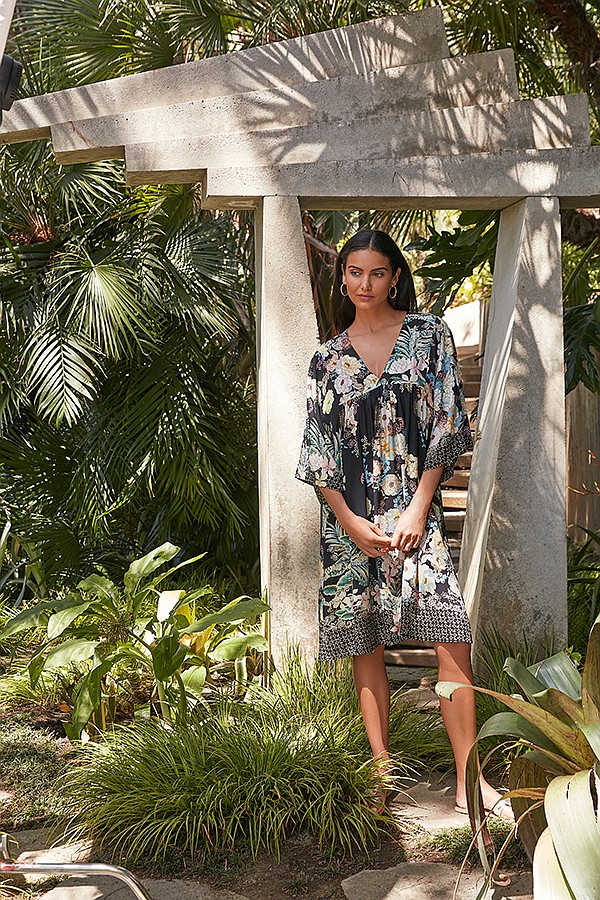 BOHEMIAN RHAPSODY
Johnny Was Updates Its Bohemian Roots Through a Colorful Rhapsody of Optimism
Photo Gallery
Johnny Was Updates Its Bohemian Roots Through a Colorful Rhapsody of Optimism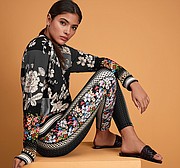 Photos courtesy of Johnny Was
For its Spring 2023 collection, the Johnny Was design team held onto the roots of colorful bohemian themes in florals, lace, eyelet details and embroidery but was inspired by a return to enriching life experiences. Described by the company as a celebration of "effervescent renewal," these experiences include embarking on adventures through travel, local day-tripping and, following a successful Fall 2022 activewear launch, a great deal of self-care.
"The consumer comes to us for vibrancy and optimism, which is the core of everything we produce. It really is about boldness. Now that she is back to travel, we are feeling vibrancy," according to Carrie Tanzman, senior vice president of merchandising for Johnny Was. "It's really been a huge shift in the customer's appetite from [the onset of] COVID versus post-COVID."
A return to romance
While the word "bohemian" is often used to describe the Johnny Was style, the brand also features pieces that inspire feelings of Old World romance, and it is translating this theme into lace and eyelet details. This season, a fine filigree in cream lace is featured on the Tayla Maxi Dress, a long-sleeved silhouette with a complementary cream slipdress lining that nearly grazes the floor. The same fabrication was applied to the three-quarter-sleeve Betty Blouse with a ruffled, lacy collar and pearl buttons. By applying lace details to the Sidney Cropped Baby Boot Jean, Johnny Was updates dressier denim with a dreamy touch.
"Those are vintage inspired though they look modern. This is the time of year when we start to grow our lace as well as our eyelet. We wanted to stand behind it with a modern approach," noted Tanzman. "It's really focusing on vintage mixing with modernity."
The pieces fit well within an array of settings, and that is the goal, according to Tanzman. Johnny Was Spring 2023 pieces were created with details reminiscent of 1970s-era craftsmanship in mind, but they are meant to be worn everywhere.
"We love the idea that you can wear it to the beach or you can wear it to a wedding," said Tanzman. "Of course, it's all unique and artisanal, and it leans toward a resort brand, but there is so much in the assortment that has versatility. You can wear it day to night, and we are starting to home in on the versatility component to add more broad appeal to a greater audience."
This theme of whimsy translates into additional styles that play off other themes such as the Western-inspired Liza Midi Dress in a multicolored rainbow of pastels. The piece features a surplice neckline and skirt in color-blocked hues of blush, yellow and mint with an overlay of a gray floral pattern in a crinkled silk with three-quarter, balloon-style sleeves. A similar approach was used to design the Serena Peasant Blouse, a sheer, pastel color-block piece with three-quarter sleeves and a sweetheart neckline that features long ties with tassel ends.
"This season, we're really standing behind dresses. We feel there is a lot of opportunity in this category, and we've seen such success recently that we're focusing on growing it," said Tanzman. "We [also] never want to leave behind our blouse business. It's the core of our brand."
Actively embracing the new
Fall 2022 heralded in Johnny Was's entrance into the activewear category, which has been successful and continued to grow for Spring 2023. An innovative approach to active, Johnny Was offers a reversible sports bra in the black and modern floral print Redland Bee style, as well as complementary high-waist leggings with pockets and a matching pullover and sweatshirt.
"In the activewear industry, the pant is bought 3 to 1 versus tops," revealed Tanzman. "The customer can continue to buy her bottoms and have a reversible bra that can be worn with two bottoms, so it registers as two prints in each delivery."
The Johnny Was team will continue to grow its active business with a tennis-pickleball collection that features skirts, polos and dresses. As the brand's creatives look toward Fall 2023, they will also introduce an après-ski collection.
"The team designs with our women at the core of everything we do. Our goal is to ensure we provide a line that gives our customer happiness and confidence," said Tanzman. "We want her to be excited to wear each piece's design with such unique details. Every piece is created with our consumer in mind."