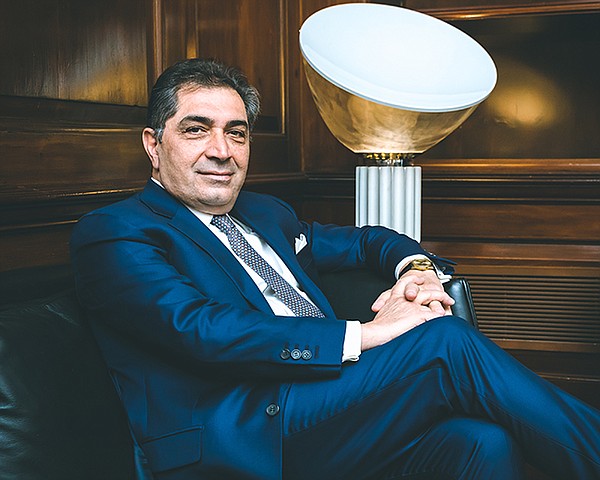 FASHION
Viva Italia
When Antonino Laspina joined the Italian Trade Agency in 1981, dawn was just breaking on the designer era and fashionistas could sip their morning cappuccinos with the proud knowledge that they knew who Giorgio Armani was (and, what's more, put a few gorgeous pieces on their MasterCard) and that with any luck he'd never become a common household name.
Since then the great Italian design houses have all become household names—and not just here but in every corner of the world as luxury fashion went global. But many fashion cycles have risen and fallen since the designer '80s, and market trends such as fast fashion and e-commerce have threatened the throne of Italian fashion.
After a range of roles in various foreign offices, Laspina was posted to New York in 2019 as executive director of ITA in the U.S. market, whose offices on Madison Avenue are just a few blocks from the luxury-shopping strip. His new mission is to spread the word of Italian fashion across the U.S. as the ITA, in collaboration with Confindustria—the main association representing manufacturing and service companies in Italy—unveils its first-ever fashion "road show," Inspr Italia Innovations in Style, which will make its debut in Los Angeles before moving on to Miami, Dallas and Atlanta.
The road show will make its bow March 13–15 during Los Angeles Market Week at the Brand Assembly show in the Cooper Design Space and at the Designers and Agents show in The New Mart.
Thirty-one designers of women's contemporary fashion, accessories and shoes will be showcased. Brand Assembly will feature Antura Accessori, Athison, Dezen Dezen, Ducanero, Fracap, Giovanna Nicolai, Karma of Charme, Laboratorio Mariucci, L'Aura Borse, Mimì et Mamà, Ploumanac'h, Sesa Shoes, Shaft Jeans and Shoto. Designers and Agents will include Alienina, Alysi, Anthemis, Bsbee, Elom, Etici, Halmanera, Henry Beguelin, Lavi Couture, Moma Shoes, Momonì, Ofhandmade, Pomandere, Suprema, Transit par Such, Voile Blanche and Whyci Milano.
"Italy is still a strong manufacturing country, and every region has something to cultivate," said Laspina. "Some of them work for the big fashion houses, but others are committed to bringing innovation in terms of design. They are small in size, but in terms of marketing they are operating like the brands that have been able to conquer the world. During COVID, the goal became how to create awareness of these makers, especially in the U.S. market."
Another reason to "hit the road," Laspina explained, is that Americans are more mobile than ever before, and many previously unforeseen hotspots around the country "are full of hundreds of thousands who are already consumers of Italian products and can fertilize the area." The brands showing in each marketplace are carefully selected to best appeal to the buyers and consumers in those areas."
In a certain way, Laspina's mission is something of a strange one since in many ways the fashion industry has gone full circle while Italy has stayed the same. By simply doing what it's always done, Italy has gone from being quaintly old-fashioned to cutting edge and nowhere more obviously than in the push for sustainability.
"Sustainability is inherent in Italian products," said Laspina. "Workers live in the surrounding area and seek to preserve the environment. Leatherworkers know not to use toxic leather. Everybody knows what's going on with fabric dyeing. It's all part of a world that is very aware, not just now because it's trendy to talk about circularity. In Italy it's not a choice but a necessity."
Manufacturing companies are also completely transparent, according to Laspina, and anyone doing business in Italy is gladly invited to come see how garments are made. "The process is clear and clean. It's not only a matter of quality and fashion sense; in many ways Italians are clearly ahead of their competitors. This manufacturing base is clearly aligned with the new values of the marketplace."
Founded in 1926 and with 79 offices worldwide, the Italian Trade Agency's goal is to promote trade between Italian companies and foreign markets. Italy is the fourth-largest supplier of fashion in the U.S., which imported $13.34 billion worth of Italian products in 2022, up 10.4 percent over 2021.
"In the end, our road show is not just a demonstration of goods but also entertainment and the culture of Italian products, which come from a totally different world that people can get in touch with," said Laspina.