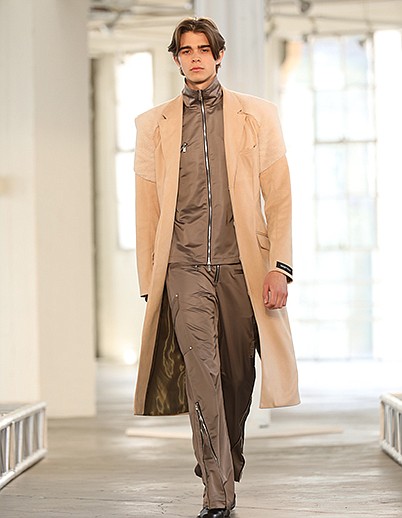 SPRING TALENT
Fashion Graduates From ASU, FIDM Showcased Their Talents at Spring Shows
The recent integration of Arizona State University and the Fashion Institute of Design & Merchandising (see story, ASU-FIDM Integration Blends Innovation With Deep Fashion Roots) makes the institutions like two garments in the same ensemble—and in more ways than one. Both are devoted to nurturing the next generation of fashion talent, who will enter the creative marketplace at a time of tremendous change and uncertainty.
In fact, Uncertainty was the title of ASU's student fashion show, which took place on April 8 at the Scottsdale Fashion Square in collaboration with Margaret Merritt Productions. There, 14 students graduating with a B.A. in fashion from the Herberger Institute of Design and the Arts showcased their capstone collections to a crowd of attendees that filled the center's Palm Court and expansive mezzanines.
The students included Sarah Abdallah, James Burrie, Elisia Cabrera, Madalyn Cunningham, Val Grula, Wanchuan Lin, Liz Lockard, Diana Corrales Noris, Marissa Pallares, Flor Paredes, Katrina Remaley, Heidi Stierli, Ying Tan and Madison Watson. Each was tasked with designing, patterning, constructing and fitting each of their looks based on original concepts. The collections showed a wide spectrum of individual aesthetics and skills, including such techniques as textile printing, embroidery, quilting, crocheting and felting, as well as the use of advanced technologies such as 3D printing and laser cutting.
Meanwhile, on March 31 at FIDM, future talent showcased their visions at the college's DEBUT Runway Show, an annual event featuring designs of 11 graduating students from the Advanced Study Fashion Design Program. Produced and filmed at the Cooper Design Space in downtown Los Angeles, the DEBUT Runway Show is a culmination of nine months of intensive research, advanced fashion construction and collection development led by Fashion Design co-chairs Nick Verreos and David Paul.
The select group of students included Isabella Andrade Prada, Olivia Leigh Paris, Evan Brewster, Hye Rin Lee, Monica Nakatani, Cyncir Foxxi Pollard, Keagan Roberson, Steven Sweet Ruth, Max Tran, Jacob Yadidi and Alexander Ziemba. They were each chosen for their unique talents and academic achievements and were taken through formal interviews and portfolio reviews. The show premiered on YouTube, and attendees included Los Angeles–based designers, stylists, industry partners, FIDM students, staff, faculty and the greater Los Angeles community.