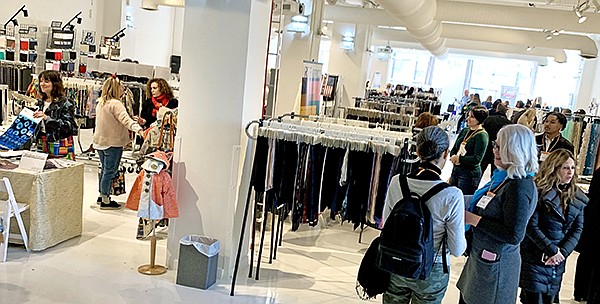 TRADE SHOWS
Los Angeles Fabric Show to Debut With a Diverse Roster of Exhibitors, Buyers
The Fabric Shows is weaving its way back to Los Angeles. Producer Susan Power has announced that the next edition will be at The New Mart July 25–26.
Los Angeles is the newest addition to a growing list of cities where The Fabric Shows take place, including Dallas, Miami, New York and San Francisco. "The Fabric Shows focus on the needs of our attendees and buyers," said Power. "We understand their busy schedules, so we are traveling to meet them on either the East or West Coast this July, since New York and Los Angeles have the largest concentration of textile buyers and apparel and home-products designers in the United States."
The Los Angeles Fabric Show will feature North American exhibitors from the U.S. and Canada. In addition to domestic production, many exhibitors have in-stock and made-to-order fabrics imported from around the world. "Many of our exhibitors also ship from their production plants in the Americas, Europe and Asia directly to their clients' manufacturing facilities throughout the world," explained Power. "Our exhibitors have already done the work sourcing the materials that buyers want, making it easy for show attendees to find what they need in the quantities they want and with quick delivery."
A key component of the show is the popular resource center, where attendees can ask questions, network and find resources that best fit their needs. The Los Angeles Fabric Show will also offer a seminar program, and both the resource center and seminars are especially helpful for startups and emerging designers. The Fabric Shows' slogan is: "Everyone needs small quantities sometimes."
Last fall, at the first Atlanta Fabric Show, for example, attendees included buyers from Dillard's, Disney and Sid Mashburn. Attendees to the new Los Angeles Fabric Show are expected to include the same broad range of buyers including well-known brands, private-label producers, uniform producers, costumers, retail fabric stores and other sewn-product producers.