As of Thursday, March 2, 2023
The California Market Center in downtown Los Angeles hosted its Spring/Summer 2024 edition of LA Textile Feb. 22–24 to showcase sourcing options from farm to fabric and patternmaking to packaging. Among the global exhibitors were representatives at a new Perú Pavilion and the Turkish Textile Pavilion, which returned to the show to illustrate the country's resilience following the devastating February earthquakes.
On the show floor, the big news was the expansion of LA Textile's partnership with Messe Frankfurt's Texworld, which featured a pavilion at the recent event. Messe Frankfurt and the CMC will launch Texworld Los Angeles July 25–26, co-locating the event with Apparel Sourcing Los Angeles.
"Texworld Los Angeles will give West Coast designers and manufacturers an additional opportunity to source between our LA Textile shows, which take place in February and September annually," said CMC Events Director Moriah Robinson.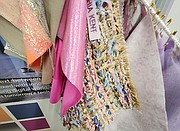 Fresh trends in textiles
Beyond the Ceremony founder and designer Janice Lee embraced textile trends in geometrics, mixed laces and ethereal floral appliqués. Standouts for Lee included Pop Fabrics and family-run businesses such as Sai Silks Inc. and JM Label, which are willing to work according to the needs of independent designers.
"JM Label's products are super high quality, and it's a vertically integrated manufacturer that is family owned with low minimums, low shipping costs, and they have a huge variety but not only in hangtags and labels—they have everything," said Lee, whose brand is focused on formalwear and bridal. "They can manufacture garment bags. They can manufacture shopping bags and little gift baskets. They produce it all in-house. It's really wonderful, and I hadn't found a resource like that where it can be a one-stop shop."
Crystal Lira Jurado, an apparel-tech designer at Guess, noted a preference for thick suiting fabrics in a luxurious hand and heavy drape. Working for a well-known fashion brand requires Lira Jurado to think ahead.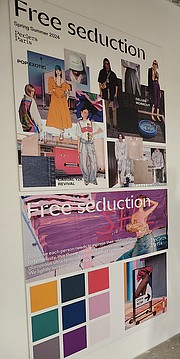 "We use a lot of eco rayon and Pima cotton," Lira Jurado said. "We try to follow the trends, and 2024 predictions are bringing a lot of neutrals and prints. It was really fun seeing how a lot of the fabric here can correlate to that."
At the booth for the Preview Textile Group, Elliot Glantz fielded demand for prints and showcased luxurious fabrics from Como, Italy; Barcelona, Spain; and South Korea. Visitors to the booth were also interested in pleated fabrics in ombré, light textures, shimmers and metallics.
"Cost is always an issue, but you have a certain customer who is willing to pay $100 per meter or up on certain fabrics," said Glantz. "The quality of attendees was good."
Ecological responsibility also trended during LA Textile as Michelle Egbunike searched for sustainable resources to support her luxury brand Michelle Mushel. Egbunike was interested in resources with certain eco certifications but also wanted to dive deeper into brand stories.
"When talking to the representatives, attendees should pay attention to their knowledge and expertise. They should be mindful of how they are representing their companies," said Egbunike. "One of the values of Michelle Mushel is precision and the backstory. It all comes together with expertise, knowledge and passion."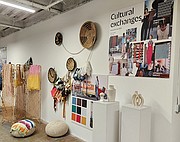 Achieving a higher fashion education
Attendees also found educational opportunities and sessions that included Spring/Summer 2024 trend reporting from Jennifer Karuletwa of Peclers Paris. The Evans Group's Jennifer Evans shared fashion development and production trends, while a session on duties and inventory management was hosted by Ilse Metchek, president of the California Fashion Association, and featured input from Heather Littman of GDLSK LLP and Vincent Iacopella of Alba WheelsUp.
On Feb. 23, Andrea Kennedy, vice president of sustainability at Material Exchange, hosted a full-day Fashion Circularity Workshop with input from Cotopaxi, JDG Group, Refiberd and Shoe Waste.
"What I learned in chatting with California and U.S. brands is that many have already shifted to some exciting sustainability practices, but they know that working toward circularity is most urgent in eliminating waste and doing their share. They're uncertain of what being circular means to their brands and how and where they should start," Kennedy explained. "Both LA Textile and Material Exchange have similar purposes—to facilitate material sourcing so it's more efficient, sustainable, transparent and inspiring."
Following the workshop, participants were awarded certificates of completion signed by LA Textile, Material Exchange and the United States Fashion Industry Association.
"I loved the fact they were able to touch upon different aspects of circularity," noted Troy Johnston of the elevated streetwear brand Milarri. "We stand behind durability. I am trying to find a way in which durability and sustainability can mean something and play on the same field. The workshop allowed me to grasp how they can work hand in hand."