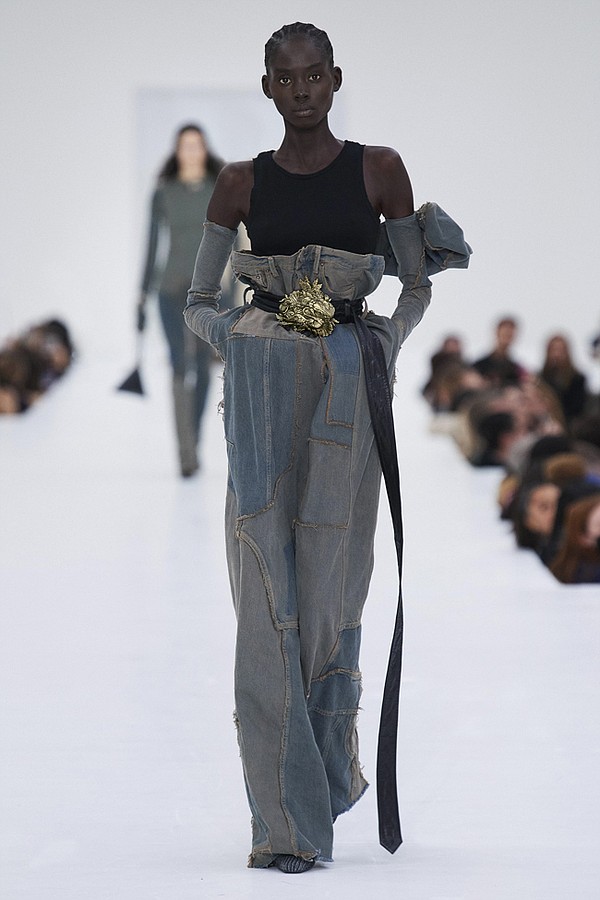 DENIM
FW2425 Denim Trends: Crafted for the Future
The necessity to rethink denim and develop alternatives to a traditionally polluting and water-thirsty production process originates in a new creative dynamic, with upcycling and mending inspiring new aesthetics that bridge the gap between casual and sophisticated. Not only has denim never been more experimental than it will be for FW2425, but it will also do so by conjointly reexploring its urban sportswear heritage and flirting on occasion with tailoring and couture.
Upcycling is the new designing
The most straightforward way to make new jeans that pollute less? Repurposing existing pieces that are cut, patched and reassembled into new volumes and drape.
Craftsmanship meets the art of repairing and originates into a rough although intricate aesthetic. Taking time to repair your garment becomes a way to decorate it and make it one-of-a-kind, with patches embellished with threads, contrast fringe borders and handmade patchworks in crafted, artisanal, monochromatic indigos. Denims are worked like one-of-a-kind pieces and mixed with classic, essential items or twisted with gold fake leathers.
Denim becomes the support for a new creation and aesthetic, with hybrid pieces that seem to mix two preexisting pieces, emphasizing their opposite origins to create a unique and never-seen-before garment. The result: a chic, clean, casual mood supported by surprising and counterintuitive volumes, at the same time loose and tailored. Repurposed denim turns precious material by being framed by and contrasted with a more noble yet plainer material.
Through those varied experiments emerges a broader DIY-like aesthetic. Rhinestones and micro-jewelry adorn pockets or are used to create greater scale embellishment. Overstitches turn allover patterns in a Japanese padded-fabric spirit. Cyanotype prints allow rich shade variations while creating interesting stories. Last but not least, denim gives a general direction to the look: worn with bleached jersey in denim hues or with crafty indigo pieces that underline its rustic origins.
Volume: both rougher and more sophisticated
Those experiments, by emphasizing the preciousness and endless creative potential of denim, help bridge the gap between jeans as a symbol for various countercultures and the new expressions of sophistication.
Both clean and grungy, active and girly, a look that plays with the codes of denim for a Y2K-inspired everyday sportswear. Worn layered or like a second skin, for every day, for everybody, for every age. The products are very simple, but the volumes have been reworked: shrunken jackets worn with loose, almost jog-like pants or oversized long shorts. For men, the look draws from urban board sports, in a crafty DIY atelier spirit. An active, well-groomed attitude, cool and elegant.
When it comes to an easier look to be worn for slightly more formal occasions by a broader demographic, jeans are worn fitted with a subtle flare at the bottom of the leg and a marked or topstitched pleat at the center front for a '70s look and elongated silhouette. Still, in a raw, recycled or upcycled and even patched denim, as proposed by the London-based luxury-jeans label E.L.V.
Both at the other end of the spectrum and reminiscent of and inspired by the almost grungy sportswear look mentioned, denim is the basis for a new couture-inspired silhouette, overtly sophisticated, bold, feminine and somewhat rough at the same time. Adorned with big jewels, high and narrow waisted, chic and nonchalant, it reexplores the codes of '80s Parisian couture in a sort of Girbaud meets YSL spirit that is both nostalgic and new.
Upycling or producing better?
Beyond these creative endeavors, the innovation dynamic is still strong when it comes to producing new pieces from scratch. It is the direction adopted by Milan-based company Candiani, a precursor in the development of responsible denim. Not only does it maintain total transparency in its production chain, from the traceability of fibers all the way to the finished products, but it also develops new eco-friendlier fibers such as Tencel x Refibra (recycled cotton and Tencel, a cellulosic fiber with a wood-pulp base); Coreva, a fiber made from natural rubber that doesn't release microplastics and can be composted, a great alternative to elastane; and Blue Seed, a variety of hybrid cotton, conceived with sturdier, more-resistant fibers that need less water and chemicals to grow than traditional cotton.
Peclers Paris is a leading lifestyle trend-forecasting agency focused on building brands through the expertise of an international team of designers, strategic planners, futurists and consultants. The company has headquarters in Paris, Los Angeles and Shanghai.