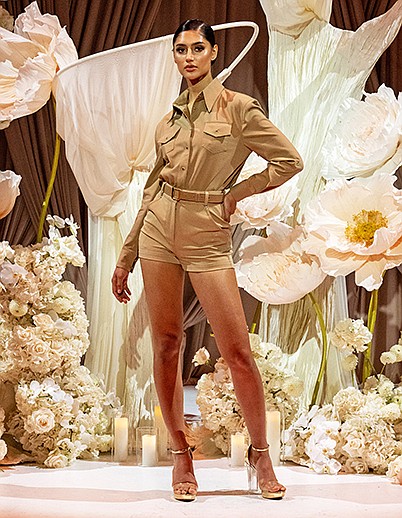 EMPOWERING DREAMS
LA Fashion Week, a N4XT Experience, Pairs SS24 Artistry With Education
A roster of global designers showcased Spring/Summer 2024 looks during LA Fashion Week, a N4XT Experience, Oct. 18–22 at NYA Studios in Hollywood. Hosted under the theme of "Empowering Designers, Empowering Dreams," the production's programming touched on fashion, beauty, technology and sustainability.
Imitation of Christ opened the event's four-day run at off-site location The Hole Gallery. Models presented Imitation of Christ designs through choreography developed by brand founder Tara Subkoff and dancer Lauren Cannon. The presentation was followed by an opening cocktail reception at NYA Studios marking the launch of the LAFW Society philanthropic initiative.
Sergio Hudson's Oct. 19 presentation bypassed the typical runway show in favor of models moving between three stations within the crowd. The designer showed his 14-piece Spring 2024 ready-to-wear capsule collection complemented by jewelry provided through a collaboration with OYA Labs.
Neon Cowboys presented its technology-charged fashion with a lively, colorful show. During the brand's LAFW presentation, it showcased its illuminated designs in a rave-inspired atmosphere in which guests were encouraged to participate while experiencing Neon Cowboys' pieces.
No Sesso showed its Futuro Fish collection on Oct. 22 with a circular platform. The collection was based on the vision of designers Pia Davis and Autumn Randoph with future-focused science-fiction elements.
Additional designers with California connections included Kwame Adusei and Tombogo, which collaborated with SAP to offer guests an immersive and interactive shopping experience.
LA Fashion Week also featured educational segments, including a screening of "Fashion Reimagined," presented by FullCycle and Otis College of Art and Design. The film was preceded by a panel discussion that included "Fashion Reimagined" filmmaker Becky Hutner, Mother of Pearl founder Amy Powney, actor and entrepreneur Nikki Reed, FullCycle founder Ibrahim AlHusseini, and Jill Zeleznik, chair of the fashion design program at Otis.
"Empowering the next generation through hands-on collaborative experiences is the key to passing on the torch to sustainability," said Zeleznik. "When we ask mentors or designers to come in, we ask them to give our students a sustainable project that [teaches] the principles of the mentors."