IMPORT & EXPORT
By Deborah Belgum | June 1, 2017
The demise of a free-trade agreement between the United States and several Asian countries is breathing new life into the Guatemalan apparel industry.
An elaborate scheme that involved bringing in Chinese-made apparel from Hong Kong through Los Angeles ports, allegedly destined for Mexico but ending up in the United States, will result in Hong Kong sharing some of the $20.5 million worth of forfeited assets collected during the investigation.
U.S. cargo-container imports for the first half of this year are expected to be nearly flat over last year as the economy inches along.
In 2010, JBlu Inc., a longtime Los Angeles clothing company, imported some 500,000 pairs of blue jeans from China in 11 shipments through the Port of Long Beach—all headed for retail stores around the country.
The U.S. dollar will remain strong until the middle of this year, hampering U.S. exports but boosting a wave of imports into U.S. ports.
China, with a population of 1.4 billion people, is a burgeoning consumer market where shoppers are hungry for American clothing labels.
Congress may not vote on the Trans-Pacific Partnership deal until sometime after the November presidential election.
California's attorney general has won a settlement from a clothing factory in India accused of stealing intellectual property from U.S. software companies.
China's exports of textiles and apparel to the United States saw a 1.5 percent increase over last year, meaning that the nation of 1.35 billion people and nearly 20,000 apparel and textile factories sent $43 billion worth of goods to the United States for the 12 months ending Oct. 31.
The largest container ship ever to call in the United States will be arriving at three California ports to test the waters on how the facilities handle a megaship of this size.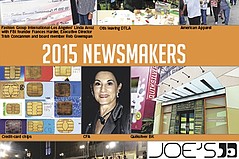 The people and events that made the news in 2015.
After seven years of negotiations, trade representatives from 12 countries hammered out a final agreement this year on the Trans-Pacific Partnership, which could change free-trade as we know it between the United States and Asia.
The beginning of the year was a challenging time for shippers, who found their merchandise delayed for weeks at the Port of Los Angeles and the Port of Long Beach.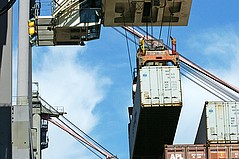 The total number of cargo containers coming into the nation's major ports will increase approximately 5.5 percent this year compared with last year, according to the National Retail Federation.
With 40 percent of the nation's cargo-container traffic arriving at Los Angeles–area ports, trade has become a very important economic engine for the area.
Import volumes at most of the nation's ports are on the upswing as retailers bring the last of their goods in for the holiday season.